Russia Will Need to Lower Its Inflation Target, Kudrin Says
The Bank of Russia will need to consider dropping a 4% inflation target that is becoming increasingly irrelevant due to a plunge in price growth last year, the head of the country's Audit Chamber warned.
"Inflation will keep falling in the next one to two years," Alexei Kudrin told RIA Novosti on Tuesday. "At some point we'll have to move to a new target."
Kudrin is one of the first top officials to publicly suggest the central bank will have to alter a target that's been a foundation of its policy for more than five years. A string of consecutive interest rate cuts last year failed to stoke price growth, while economic growth has lagged government goals.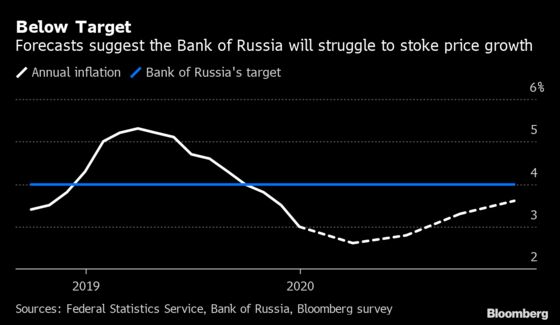 The Bank of Russia forecasts inflation to reach 3.5%-4% by the end of this year and remain near the 4% level after that. Governor Elvira Nabiullina said last month that the central bank has no plans to lower the target and needs more time to evaluate the effect of last year's rate cuts on price growth.
Analysts at Goldman Sachs Group Inc. have warned that policy makers are underestimating potential for inflation to ease dramatically and that pressure for a target revision will mount.