Russia Fights Off World Cup Curse of Distracted Consumer
Countries staging the world's most-watched sporting event have a poor record when it comes to economic benefits off the pitch. In the three previous World Cups, South Africa -- the only host nation whose team failed to advance from the group stage -- was alone in enjoying a bump in consumer demand in 2010.
Russia came close to breaking the spell, despite a government plan to raise value-added tax that was unveiled hours before the opening game. While near-nightly games kept shoppers distracted for a month, data released on Wednesday showed a bump in retail sales in June that exceeded forecasts. That's despite meager growth in real disposable incomes.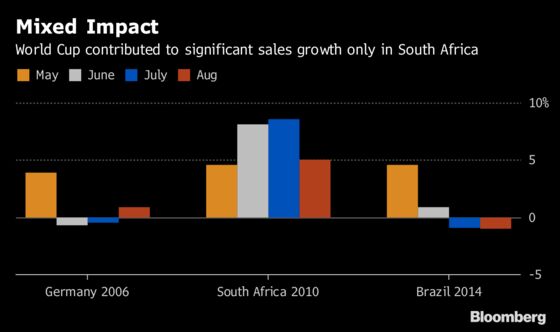 Consumption accounts for slightly more than half the economy, and some retailers have benefited from the thousands of visitors drawn to the 11 cities hosting the games across Russia. Retailers Magnit PJSC and M.Video PJSC both reported better sales thanks to demand for beverages, food and TVs. Still, the Watcom shopping index for Moscow, which surveyed activity at 150 malls, had the worst reading for June and early July since 2015.
| | | |
| --- | --- | --- |
| Annual performance | June | May |
| Retail sales | 3% | 2.4% |
| Real wages | 7.2% | 7.6% |
| Unemployment | 4.7% | 4.7% |
| Real disposable income | 0.2% | 0.1% |
The decline in Watcom's shopping index is because "during the championship, people were largely flocking toward downtown, which boosted street retail," said Roman Skorokhodov, president of the Moscow retail consultant that conducts the survey. "Shopping malls that made preparations and provided for fan zones were the exception."
The World Cup wasn't much of a distraction, however, from the government's plan to lift VAT to 20 percent from 18 percent. Consumer sentiment, also hit by a spike in gasoline prices in May, fell last month, according to the central bank. The share of people who say that now is a good time for large purchases has dropped to the lowest in a year.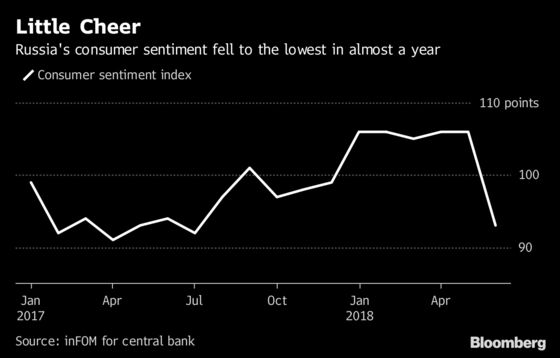 The higher VAT rate is due to come into effect next year, and it's already figuring in negotiations between suppliers and retailers, whose costs will have to reflect the tax difference, said Ivan Fedyakov, general director of St. Petersburg-based researcher INFOLine. Shoppers may bring forward some purchases before higher prices kick in, according to Nordea Bank. But any gain will probably be temporary.
Given the fragile state of the economy, there's not much in the outlook to drive consumption, according to Natalya Kolupaeva, an analyst at Raiffeisenbank JSC in Moscow.
"On the part of buyers, demand still remains weak," she said. "Promotions, discounts result in higher sales. But as soon as they end, sales are down."