Russia Inflation Keeps Rising As Central Bank Flags Big Hike
Russian inflation continued to accelerate in November, with prices rising at the fastest pace in six years, as the Bank of Russia signaled a bigger rate increase is likely at its meeting next week.
Annual inflation accelerated to 8.4% in November from 8.13% the month before, Russia's Federal Statistics Service reported late on Wednesday. The latest result was slightly above economists' forecasts of 8.35% and is at the fastest pace since Jan. 2016. In the latest week, price gains slowed a bit, according to the agency.
The central bank has said it's watching the monthly data closely for any sign price pressures are easing as officials warn more increases in interest rates are likely to be needed to tame inflation. Deputy Governor Alexey Zabotkin said Wednesday a hike of 25 basis points, the central bank's usual increment, is unlikely at the Dec. 17 meeting, with bigger moves on the agenda. 
Governor Elvira Nabiullina said on Nov. 30 the bank will consider options from a hold to a 100 basis-point increase next week. The bank has raised its key rate 325 basis points so far this year but inflation is still running more than double its 4% target.
"For the moment, the inflation trend is running at the higher end of the central bank's base case and that most likely means the decision on the rate will be at the top end of the range -- a hike of 100 basis points," said Dmitry Dolgin, chief economist at ING Bank Eurasia.
Inflation will be above 8% at the end of this month, Economy Minister Maxim Reshetnikov said Wednesday.
President Vladimir Putin on Tuesday said rising inflation is "the main problem for the economy and for citizens" and ordered officials to bring it back to the target next year.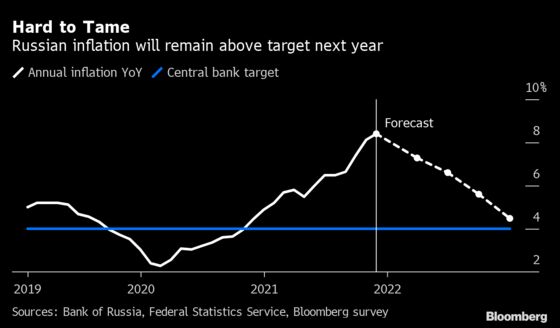 "Putin told them to bring inflation to the target by the end of 2022 and the central bank is shifting to a whatever-it-takes policy," said Tatiana Orlova, economist at Oxford Economics. "They are preparing the market for a 100 basis-point hike."
Russia has been among the most aggressive among emerging markets in raising rates to combat inflation this year. Central banks in Brazil and Chile may hike by more than 100 basis points amid high short-term inflation expectations, Orlova said.
"The central bank will most likely consider a hike of 75 basis points or 100 than 50 basis points," said Irina Lebedeva, an economist at Uralsib Bank in Moscow. "It's unlikely they will raise more than 100 basis points this time but this is definitely not the end of the cycle."
What Our Economists Say:

"The latest inflation numbers carry mixed signals for policy makers, but they're worrying enough to support another big hike. A full percentage point of tightening looks likely next week."

--Scott Johnson, Bloomberg Economics
Zabotkin warned that inflation will remain significantly above the target for most of next year, with substantial declines possible only in the fourth quarter.
He said the central bank is looking at inflation data now to determine how much of the price growth is driven by one-time factors versus sustained ones.  
"For the December decision, what will be important isn't so much what inflation will be at the end of December but how the data for October-November as a whole add to our understanding of sustained level of inflation pressure," he said in an interview with Interfax confirmed by the central bank Wednesday.