Russia Rates Seen on Hold as Battered Consumers Restrain Prices
(Bloomberg) -- Russia's central bank is getting an unexpected boost in its fight against inflation this year from weak consumer demand that's kept retailers from passing on a New Year's tax increase.
Executives at supermarket giant Magnit PJSC say they don't plan to shift any of the tax hike onto consumers already suffering from a slump in disposable incomes. Other companies will probably raise prices eventually, but the process will be gradual, according to Oleg Vyugin, a former senior central bank official who is now chairman of the Moscow Exchange.
The central bank warned when it pushed through two preemptive rate hikes late last year that inflation could spike to 6 percent or even higher after the increase in value-added tax to 20 percent. But now that those worries don't seem to be materializing, hopes are growing that the regulator will hold rates steady this month before returning to cuts later in the year.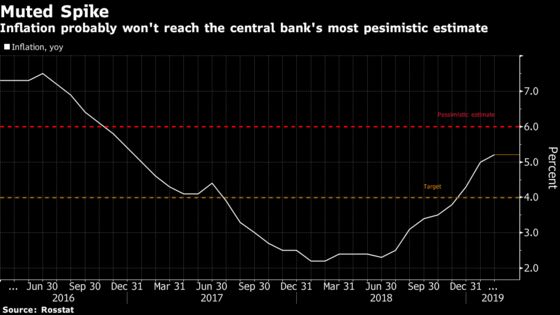 "Whoever raises prices first will suffer the biggest drop in demand," said Vyugin. "Inflation will probably peak in April, but it won't drop sharply after that."
Consumer prices rose 5.2 percent in February, the State Statistics Service reported Wednesday. The central bank targets inflation at around 4 percent.
What Bloomberg's Economists Say
"Inflation is accelerating in Russia, but the effects of January's tax increase have been unexpectedly mild. Barring a shock from fresh sanctions, we expect monetary tightening to remain on hold, with potential for easing later in the year."
-- Scott Johnson, economist, Bloomberg Economics
The risks of inflation peaking at 6 percent have subsided, and the central bank may even be able to return to monetary easing by the end of the year or beginning of 2020, according to Alexey Zabotkin, who heads the regulator's monetary policy department.
"The inflationary trends that we have seen in January and early February have been somewhat below our baseline scenario," Zabotkin told reporters in Moscow.
Real disposable incomes fell 1.3 percent in January after advancing just 0.1 percent in the whole of 2018. An index of consumer confidence has slumped to the lowest level in more than three years.
"We haven't raised prices, not on the first of January, not before and we will not do it after," Olga Naumova, chief executive officer at Magnit said on a conference call last month.