Sole Russian City With No World Cup Debt Hangover Is Binging
(Bloomberg) -- Moscow is set to buck the trend of cities struggling with a bill for hosting the soccer World Cup long after the biggest sporting event is over.
Unlike several of the regions that suffered a debt buildup, Moscow avoided an increase in borrowing despite shouldering major expenses, all thanks to its "exceptionally flexible budget," according to Moody's Investors Service. The capital's ability to dodge a financial reckoning fits a larger pattern that sets the local government apart from the rest of the world's largest country.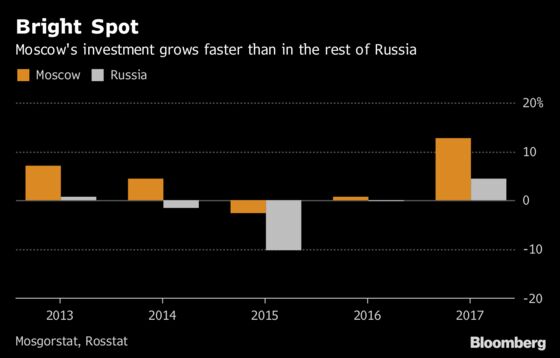 The capital is benefiting from a funding windfall that's turned it into a state within a state, enjoying a frenzy of debt-free construction financed with rivers of tax payments from the country's biggest companies and wealthy households that no other region can match. While Russia splurged more than $11 billion over six years on transforming nearly a dozen cities to stage the World Cup, the largesse was only a fraction of Moscow's typical annual spending.
Transport projects alone get as much as 550 billion rubles ($9 billion) a year, a pace that City Hall wants to keep up for at least the next decade, Deputy Mayor Maxim Liksutov said in an interview.
"Moscow will win more than anyone as a result of the championship," said Konstantin Anglichanov, director for international regional finance at Fitch Ratings. In other regions, with the possible exception of St. Petersburg, "their financial situation may get worse, especially if authorities decide to put the stadiums under local control," he said.
The yawning imbalance highlights a broader divergence. Moscow contributes more than a fifth of the country's aggregated gross regional product while representing only about 8 percent of the national population. The investment binge barely slowed even as capital spending overall dropped with the longest recession of Vladimir Putin's rule.
A home base for more than half of Russia's biggest corporations, the city relies on taxes for 90 percent of its operating revenue. Moscow, once the biggest borrower on international capital markets among Russian cities, hasn't had to sell any debt for five years. In 2022 it plans to repay its last outstanding bonds, according to Elena Zyabbarova, head of the local government's department of finance.
The breakneck growth and ambition in Moscow isn't necessarily bad for the rest of Russia, according to Liksutov, who's responsible for transport and road infrastructure at City Hall. The spending benefits the entire country, since much of what Moscow buys comes from factories across Russia, purchasing 30 percent of buses and 90 percent of all metro wagons, he said.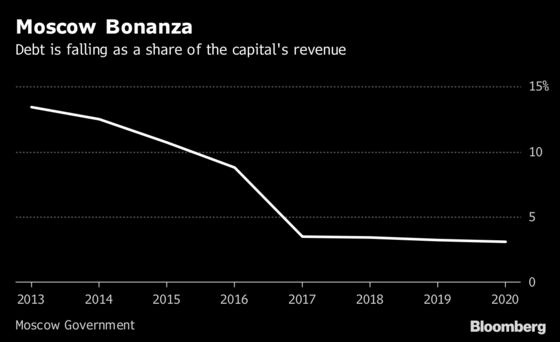 "Transport is one of the main drivers here," Liksutov said. Also "construction is major source of impetus for developing the whole economy, because what's happening in Moscow is a big plus for the rest of Russia," he said.
The disconnect is growing, however. At near 1 percent, Moscow's unemployment is the lowest among the country's 85 regions and a fraction of the double-digit joblessness across parts of Siberia and the North Caucasus. And with the exception of city-state economies of Hong Kong and Singapore, the Russian capital has the biggest share of the country's billionaire population at 73 percent.
The local outlays on infrastructure are comparable to what Putin wants to spend on the rest of the country combined in his current six-year term, a goal that's pushing the government to borrow and create a special investment fund.
Russia's capital, Europe's biggest city after Istanbul with a population of about 12 million, doesn't face the same challenge of hunting for funds. Fitch estimates the city's direct debt will stay below 5 percent of current revenue over the medium term, compared with a share of just 1.6 percent in 2017. It "has significant headroom to increase debt," the rating company concluded in an April report.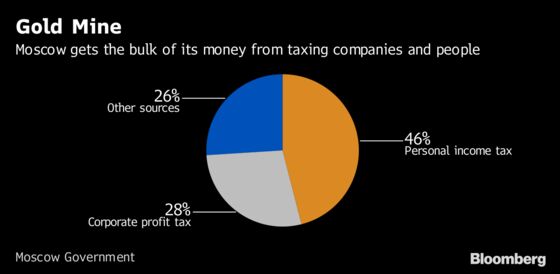 Some borrowing might come in handy, since City Hall shows no sign of slowing down. It's embarked on a massive state-funded program to replace over 5,000 Soviet-era pre-fab apartment houses with new high-rises at a cost of about 3 trillion rubles.
The city also plans to unveil another 15 subway stations this year, adding to the nine already opened so far in 2018. The total length of metro lines is set to double by 2025.
"This city is vacuuming up the whole country, gathering all the best and most qualified that it has," said Natalya Zubarevich, head of regional studies at Moscow's Independent Institute for Social Policy.