Russia's Keynesian Government Vows Cash Injection
(Bloomberg) -- Russia's new first deputy prime minister vowed to oversee a "serious injection of liquidity" into the economy in his first speech since a government overhaul aimed at boosting growth.
The government will work closely with the central bank to avoid a jump in inflation, said Andrey Belousov, a former Kremlin adviser who moved to the post last month. Increased state spending will add 1 percentage point to economic expansion this year and as much as 1.7 points in 2021, he said at a government meeting on Wednesday.
The comments come just two days before the central bank meets for its first interest rate decision since the government reshuffle. Governor Elvira Nabiullina is expected to ease monetary policy to boost slowing inflation, but the new cabinet's spending plans may bolster the case to keep rates on hold.
"We need to conduct delicate and intricate work together with the central bank to avoid damaging macroeconomic stability and spurring inflation," Belousov said. About 300 billion rubles a year will be spent from the National Wellbeing Fund, he added.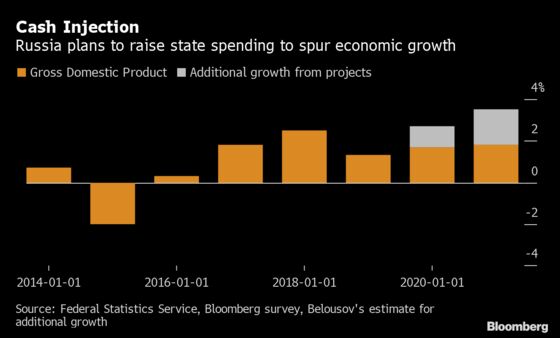 The Bank of Russia, which is currently in a self-imposed black out week, said that these discussions won't affect its independence. Sharing views will allow both the government and central bank to make better decisions, according to its statement.
The spending plans, aimed at boosting living standards in President Vladimir Putin's final term in office, mark a change of course from the tight fiscal and monetary policies Russia has followed since a currency crisis five years ago. Extra spending in 2020 could total 2.1 trillion rubles ($34 billion), or 1.3% of gross domestic product, according to calculations by ING Groep NV in Moscow.
Prime Minister Mikhail Mishustin has vowed to speed up spending in a $400 billion four-year infrastructure plan, dubbed the National Projects, and Putin announced proposals to spend about $65 billion until 2024, as much as 1% of GDP, in new benefits for the poor and families.
Belousov was one of a group of senior officials who lobbied Putin in 2018 to significantly increase borrowing to fund the National Projects. Evgeny Yasin, a director at Russia's Higher School of Economics and one of the country's most prominent economists, has called him a "Russian Keynesian."
Putin told Wednesday's government meeting that Russia must seize this opportunity to invest in itself without more delay. "We may not get another chance, we may not be able to accumulate this amount of money that we've got for our national development goals again in the coming years, or maybe decades," he said.