Russia Unexpectedly Hikes Rate Before Risk-Loaded Quarter
(Bloomberg) -- Russia's central bank unexpectedly increased borrowing costs for the second time this year and signaled it may soon act again as inflation accelerates amid a tax hike and possible new U.S. sanctions.
"In the current conditions, it's very important for us to maintain our conservative approach to assessing risks and conducting monetary policy," central bank Governor Elvira Nabiullina said at a press conference following the decision. She stressed however that Russia isn't in a rate hiking cycle and that tightening now is aimed at making it easier to resume planned easing late next year or in early 2020.
The bank raised its key interest rate a quarter-point to 7.75 percent. The majority of the 42 economists surveyed by Bloomberg had predicted a hold, with only 16 forecasting the hike. The ruble extended declines, as any impact of the tightening was offset by the announcement that the central bank will resume billions of dollars in foreign currency purchases from Jan. 15 in full.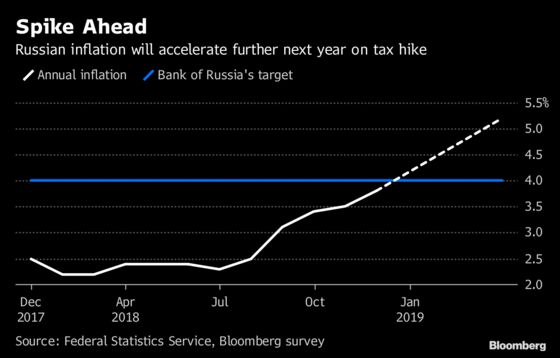 The tightening will give extra protection to the ruble as it heads into a potentially tumultuous quarter after a more than 13 percent plunge this year. Inflation is edging closer to the central bank's 4 percent target and could spike next quarter after a value-added tax increase kicks in. Discussion over sanctions for Russia's alleged interference in U.S. elections is expected to resume again after a delay this year.
External factors such as a slowdown in global growth due to a trade war between the U.S. and China, could also hurt Russia next year, Nabiullina stressed. In addition, oil prices could come under pressure because recent output cuts agreed to in a deal between OPEC and major oil producers including Russia may not be enough to offset rising U.S. supply and softening global demand, she said.
What Our Economists Say...
"Caution trumped confidence as the Bank of Russia raised interest rates. We expect the central bank to stop here but to approach the next few meetings much as it did this one -- with its finger on the trigger."

--Scott Johnson, Bloomberg Economics
The central bank typically buys foreign currency to build up reserves when oil prices are above $40 a barrel. Purchases were suspended in August to stem a slide in the ruble as concern mounted over sanctions. The recent plunge in global oil prices means the central bank will only have to buy about $201 million a day, below the 2018 average, to meet its targets, according to Bloomberg Economics.
Some economists had suggested the central bank might restart the buying slowly, with reduced volumes initially, but Nabiullina said it will begin with the full amounts. Future suspensions will be used only if threats to financial stability arise, she said.
"The rate hike is aimed at limiting the possible negative effect on the market from restarting the FX purchases," said Tatiana Evdokimova, chief economist for Russia at Nordea Bank. "Future moves by the central bank will be highly dependent on how the VAT increase affects inflation expectations."
Annual inflation accelerated for a sixth month to 3.9 percent as of December 10, the central bank said in today's statement. It may reach 5.2 percent by the end of March, according to a Bloomberg survey.
The ruble traded 0.7 percent weaker at 66.68 per dollar. The yield on Russia's 10-year local-currency bonds was unchanged at 8.7 percent.
The resumption of FX purchases "will contain any strengthening of the ruble," said Vladimir Miklashevsky, a strategist at Danske Bank A/S in Helsinki. "Given the current uncertainty in external factors and the central bank's conservatism, at least one hike in 2019 is highly likely."