Russian Finance Chief Demoted Amid Kremlin Spending Push
(Bloomberg) -- President Vladimir Putin demoted the man seen as the architect of the tight-budget policies that have made Russian bonds an investor favorite, fueling expectations the Kremlin is planning a spending spree to boost living standards.
Anton Siluanov lost his role as first deputy prime minister, but retained his post as finance minister in the cabinet shake-up. The first deputy prime minister job went to Andrey Belousov, a Kremlin aide known for his advocacy of a greater state role in the economy, effectively making him Siluanov's boss.
Economy Minister Maxim Oreshkin was replaced with Maxim Reshetnikov, a former regional governor. Oreshkin is likely to become a Kremlin economic aide, two people familiar with the matter said last week.
"The most important task of the new government is to improve the welfare of our citizens," Putin said at a meeting with the new team late Tuesday.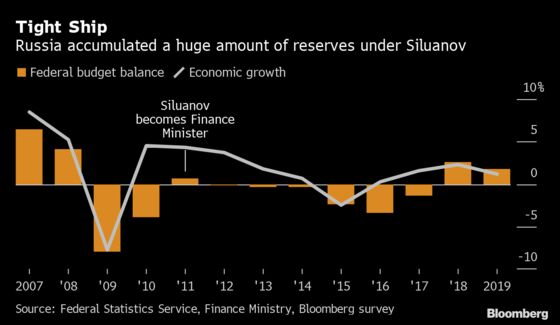 "The market would happily take a somewhat higher fiscal spending if it meant that growth finally accelerates," said Viktor Szabo, an investment director at Aberdeen Asset Management in London, before the cabinet was named. "Decent growth is the only factor missing in the otherwise very solid macro story."
Optimism Over Putin's Spending Vow Stokes Rally in Russia Stocks
At the first meeting of the new cabinet, new Prime Minister Mikhail Mishustin promised to spur economic growth and improve Russia's investment climate. He said he wants to focus on accelerating progress on delivering Putin's so-called National Projects, a $400 billion infrastructure spending program that has been slow to start.
One of the architects of the spending plans, Belousov proposed in 2018 that the government could increase taxes on metals, mining and chemical companies to raise funding. The plan was scrapped after Siluanov's ministry ruled it would hurt the investment climate.
In a speech in parliament last week, Mishustin vowed to stick with the current tight-money policies that have helped bring down inflation. The former tax chief moved to install his own team at the government headquarters, known as the White House, naming Dmitry Grigorenko, a lieutenant from the State Tax Service, as his chief of staff.
Spending on the National projects was meant to get underway last year but the plans were stalled after getting caught up in bureaucracy. As a result, inflation slowed well below a central bank's target and economic growth has struggled to break above 2%.
Putin also announced proposals to spend about 4 trillion rubles ($65 billion) over four years, as much as 1% of gross domestic product, in new benefits for the poor and families.
Yields on Russian local-currency bonds maturing in 10 years have climbed 3 basis points to 6.22% this week. The ruble dropped when news broke about the government overhaul last week, and was trading down 0.4% on Tuesday.