Russia Puts Rate-Cutting Cycle in Question With Hawkish Hold
(Bloomberg) -- Russia extended its pause in monetary easing as the central bank struck a surprise hawkish tone and warned that it's slowing a shift to looser policy because of fiscal plans unveiled by the government.
Policy makers in Moscow kept their key interest rate at 7.25 percent, according to a statement on Friday. The central bank said the balance of risks has become "pro-inflationary," boosting its inflation forecast as a result of government measures such as a plan to raise value-added tax. Nomura International Plc called the decision a "hawkish hold."
While monetary policy may still become neutral this year, the shift is more likely in 2019, Governor Elvira Nabiullina told reporters after the decision. Just one-quarter percentage point separates the benchmark from a range deemed "neutral" -- meaning a nominal key rate of 6 percent to 7 percent -- a level that doesn't contribute to a slowdown or acceleration of inflation relative to its target level of 4 percent.
"At the moment, we can't make the remaining one-two steps in the key rate that would allow us to fully transition to neutral monetary conditions," Nabiullina said.
With emerging markets in the grip of turmoil as the era of cheap money wanes, domestic concerns took precedence for the Bank of Russia, a day after the government unveiled plans to raise the VAT rate to 20 percent from 18 percent next year. Its hawkish turn followed decisions to raise rates by central bankers from Argentina to India as developing economies try to cope with higher U.S. borrowing costs.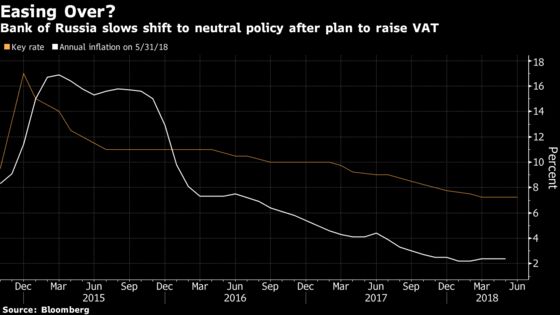 In Russia, the central bank warned that the hike in the tax could push price growth higher, bringing it to between 4 percent and 4.5 percent for a "short-term period" in 2019. The planned revisions could contribute about a percentage point to inflation, policy makers said.
The looming change in the levy is the "main" risk to inflation and could have an impact even this year although it won't be implemented until 2019, according to Nabiullina. That's because a higher VAT rate could force adjustments in inflation expectations and lead to a pre-emptive repricing of goods, the governor said.
The ruble pared losses after the rate announcement before resuming declines. It traded 1 percent weaker at 63.2475 versus the dollar as of 6:12 p.m. in Moscow, bringing its depreciation to almost 9 percent in 2018, the fourth-worst performance in emerging markets. Ten-year ruble notes fell, with the yield rising 12 basis points to 7.68 percent, the highest since November.
What Our Economists Say...
Today's decision may herald the end of the easing cycle. Inflation is set to overshoot the target next year -- and by more than the central bank expects. The need to lock inflation expectations on 4% will probably keep the key rate on hold into 2019.
 --Scott Johnson, Bloomberg Economics
Finance Minister Anton Siluanov has said the VAT increase could at most add 1.5 percentage points to inflation. The price impact of the changes won't fade fully until the start of 2020, when inflation will probably return to 4 percent, Nabiullina said.
Inflation expectations remain elevated after rising last month. With consumer-price growth at an annual 2.4 percent for three months, the Bank of Russia's updated forecasts show it will reach 3.5 percent to 4 percent in late 2018.
The VAT hike could have broader implications for the economy by affecting consumer demand, since some goods and services will become more expensive, according to Nabiullina. Although the central bank will need more time to quantify that impact, there's a risk it will downgrade its forecast for economic growth in 2019 while improving its outlook in the following years, she said.
For now, it still projects gross domestic product will gain an annual 1.5 percent to 2 percent in 2018-2020. Its baseline scenario also doesn't envisage a rate hike in 2018, according to Nabiullina.
The rate decision is "hawkish," said Richard Segal, a senior analyst at Manulife Asset Management Ltd. in London. "The VAT hike may have been a surprise to them and they may have scurried to upgrade their CPI forecast higher."