Russia May Have One More Rate Cut Left Up Its Sleeve This Year
(Bloomberg) -- Russia's central bank may have veered ever so slightly off its hawkish line to leave some wiggle room for another cut in interest rates this year even as the prospect of easing remains dim.
While it kept borrowing costs unchanged for a third consecutive meeting on Friday, warning that its transition to a looser stance is "highly likely" only next year, Goldman Sachs Group Inc., VTB Capital and Gazprombank JSC say the benchmark may still be brought down from 7.25 percent this year. To find the clues, Gazprombank points to a statement by policy makers that inflation expectations have stabilized in July and their confidence that higher risk ratios on unsecured consumer loans could help contain risks to price growth.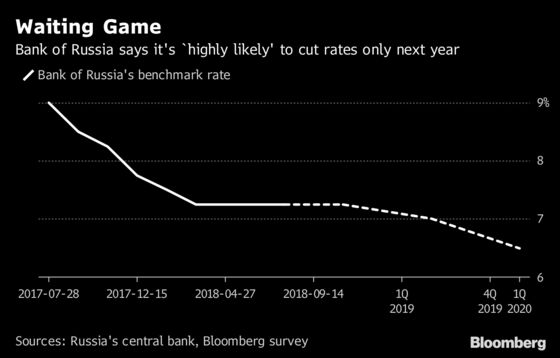 "The central bank slightly softened the rhetoric, leaving itself an opportunity for one rate cut this year and at least one more next year," said Dmitry Dolgin, a strategist at Gazprombank.
That may seem a contrarian view after the Bank of Russia said that the balance of risks has become pro-inflationary, all but delaying a policy shift it previously wanted to complete in 2018. Government measures such as a plan to raise value-added tax complicated the central bank's efforts to keep inflation near its target of 4 percent. With global trade tensions flaring and a standoff against the U.S. showing little sign of abating, policy makers warned that developments abroad will shape their decisions alongside the VAT increase.
What makes the next rate cut especially consequential is that it would bring borrowing costs to a level deemed "neutral" -- which the central bank previously described as a nominal key rate of 6 percent to 7 percent -- when monetary policy doesn't contribute to a slowdown or acceleration of inflation relative to the target.
For economists at lenders including Morgan Stanley and Alfa-Bank, the rate pause will last awhile longer. Morgan Stanley's Alina Slyusarchuk predicts rates will stay on hold at least until the second quarter of 2019.
But with three meetings left this year, VTB Capital's Alexander Isakov said the central bank still has a chance for another cut to 7 percent. A Bloomberg survey of 24 economists conducted this month before the latest decision found that 10 analysts predicted the key rate will end the year below its current level.
"We think monetary policy remains very restrictive," Goldman Sachs economists led by Clemens Grafe said in a note. "The central bank will still cut later this year as inflation undershoots its projection."