Russia Bulls to Get Reality Check From Hawkish Central Bank
(Bloomberg) -- Investors who have piled back into ruble bonds this year may be about to get a stark warning from Russia's central bank that the risks behind a recent sell-off haven't gone away.
While the Bank of Russia is widely expected to keep interest rates on hold at 7.75 percent on Friday following two hikes late last year, rising inflation and fears of new U.S. sanctions have many economists expecting a hint at more tightening in the next few months.
"The central bank is always more hawkish than the market expects," said Sebastien Barbe, head of emerging-markets research at Credit Agricole SA in Montrouge, France. "They will be in wait-and-see mode this week, but still preparing for geopolitical developments."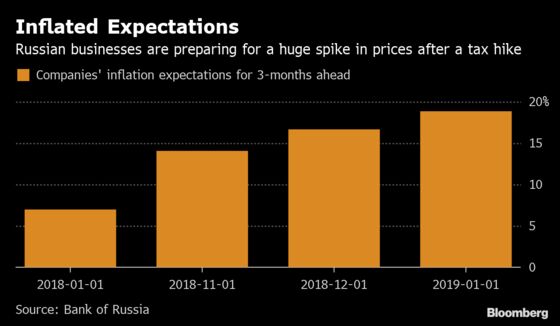 Central Bank Governor Elvira Nabiullina hasn't given much away about her intentions since she surprised economists with an interest-rate hike in December aimed at warding off inflationary pressures from a Jan. 1 consumer tax increase. Although she contends Russia isn't in a tightening cycle, she said after the last meeting that the regulator will consider more rate rises this year.
Inflation jumped to a two-year high of 5 percent in January but economists said the impact of the Jan. 1 increase in the value-added tax appeared limited. The central bank expects price growth to accelerate to as much as 6 percent in March-April, before easing back toward the regulator's target of 4 percent.
"Demand conditions remain weak, limiting the pricing power of producers and retailers," analysts at Goldman Sachs Clemens Grafe and Murat Unur said in a note. "We think the lack of pass-through of the VAT hike, as well as the fact that the ruble and oil have been trading well, will keep the central bank on hold on Friday."
All but one of the 40 economists polled in a Bloomberg survey are forecasting no change at Friday's meeting. One analyst forecast a rate increase by 25 basis points to 8 percent.
What Our Economists Say...
"There's little surprise in January's data, and the central bank can pause this week to take stock. But there's more acceleration to come, and that will keep another rate hike on the table for March."

--Scott Johnson, economist, Bloomberg Economics.
Last year's hikes, combined with the Federal Reserve's signal that it will hold off on more tightening, have helped renew the appeal of ruble assets among foreign investors. But the threat of sanctions hasn't diminished, even if discussion in Washington about proposed measures has quieted, and the central bank is still preparing for the worst.
In a sign that the regulator has grown more confident on the ruble outlook, in January it restarted the regular foreign-currency purchases that it had suspended during the currency's rout. In a further indication it sees the market as stable, the central bank this month began making extra purchases to make up for last year's backlog.
RUSSIA PREVIEW: Inflation Could Prompt a Rate Hike, Just Not Yet
Economists at Barclays, Citigroup and ING Groep NV see the central bank raising interest rates at the next meeting in March, once it has a better idea of the sanctions outlook and how much last month's VAT hike stoked inflation. Damaging sanctions could push the key rate as high as 11.5 percent by the end the year, according to Russian investment bank Renaissance Capital.
"Any comments accompanying the decision will be watched closely because the central bank's next steps remain uncertain," Dmitry Dolgin, an economist at ING in Moscow wrote in a research note. If the central bank this week voices concern over inflation or external risks, there is a "high chance" of a rate hike in March, he said.