Russia Eyes Carrots and Sticks in Push to Ditch Dollar for Euro
(Bloomberg) -- Russia will rely on economic stimuli to encourage a shift away from dollars as a way to reduce exposure to U.S. sanctions, but isn't considering any restrictions on companies' use of the greenback, the Finance Ministry said Monday.
"The Ministry of Finance of Russia supports this transition, including creating appropriate regulatory incentives," it said in a statement Monday. "Naturally, such incentives can't include any prohibitions, only economic methods."
Russia has moved away from dollars in international trade since the U.S. imposed sanctions in 2014 following President Vladimir Putin's annexation of the Crimean peninsula from Ukraine. In 2019, Russia's state-owned oil giant Rosneft moved all its oil export contracts into euros.
"The goal is, maybe, first to make Russia a euro-first country, so that the dollar is replaced by the euro," said Dmitry Timofeev, who heads the department that monitors external restrictions, in quotes reported by Interfax and later confirmed by the ministry. "But to do that, you need stimuli."
"Our stimuli can be positive, or they can be negative," Timofeev said at a Duma meeting on sanctions, according to Interfax. "In theory, it's possible to use directives for some state companies."
Russia's shift from the dollar hit a major milestone as the share of exports sold in the U.S. currency fell below 50% for the first time in the fourth quarter of 2020.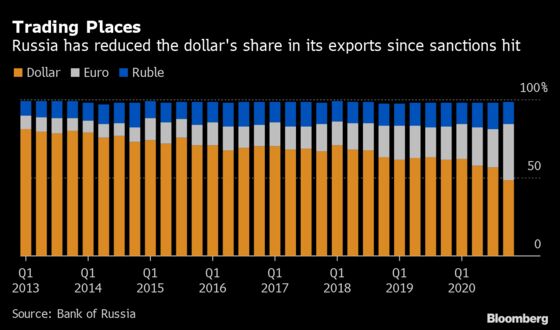 The Finance Ministry statement Monday came after local news services reported that Timofeyev had said the agency is considering penalties and other restrictions for state companies to encourage the use of the euro. The news services later annulled the reports, saying Timofeyev had withdrawn his statement on the issue.
On Friday, Putin said the U.S. would ultimately hurt itself by using the dollar as a sanctions weapon. But he acknowledged that big Russian companies for the moment prefer the currency for many transactions.
The Finance Ministry announced last week it is cutting the dollar from its wealth fund and will redistribute its share among euro, yuan and gold.
Earlier at the lawmakers' session Monday, the head of the country's space agency said sanctions were preventing Russia from launching some satellites due to a lack of microchips that are on a list of restricted imports, in a rare admission that the U.S. measures are taking a toll.
"We have more than enough rockets, but there's nothing to launch," Roscosmoschief Dmitry Rogozin told the Duma, state-run Tass reported Monday.