Russia and India Face Biggest Trade Losses From Carbon Prices
Not all countries are equally well placed to compete in a low-carbon world, with Russia and India set to be among the biggest losers, according to Bloomberg Economics.
"With shifting carbon prices hitting patterns of comparative advantage, some will do better than others," BE's Maeva Cousin and Bjorn van Roye said Sunday in a research report. "The biggest losers are energy-intensive Russia and India. European countries -- more advanced in their energy transition -- stand to gain."
As talks among world leaders begin at the United Nations COP26 climate summit in Glasgow, a key focus is establishing rules for a global carbon market. The idea is to make polluters pay for the damage they cause. Higher prices could make their products less attractive for global trade.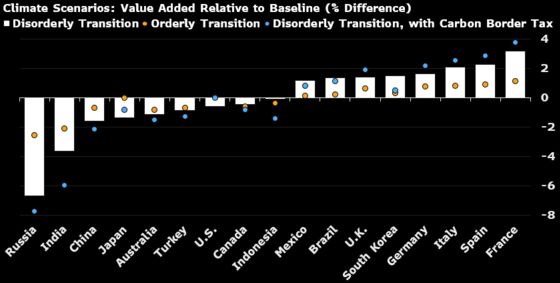 If the world manages an orderly transition to higher carbon prices -- which assumes climate policies are introduced early and tightened gradually -- disruption to trade would be minimized, according to the report. In that scenario, Cousin and van Roye predict Russia and India would each say goodbye to about 2% of gross domestic product.
A disorderly transition, with policies being delayed or divergent across countries, could have worse effects. And if the U.S., Europe, and Japan were to move first on carbon pricing and impose a carbon border tax on other countries, the impact for Russia could be a loss of nearly 8% of GDP.