Tokayev Vows to Crush Resistance to Crackdown: Kazakh Update
(Bloomberg) -- President Kassym-Jomart Tokayev declared that order had largely been restored in Kazakhstan but vowed to push ahead with a deadly crackdown after Russian troops helped suppress mass protests that had swept the country.
Russia and its allies dispatched more troops to help quell the demonstrations and retake the airport in Almaty, with 75 planes used by the government in Moscow to deploy units, according to the Defense Ministry.
The intervention marks the second major move by the Kremlin in as many years to shore up an ally facing upheaval. In 2020, President Vladimir Putin stepped in to back Belarusian leader Alexander Lukashenko's crackdown on popular protests, which drew sanctions from the U.S. and its allies.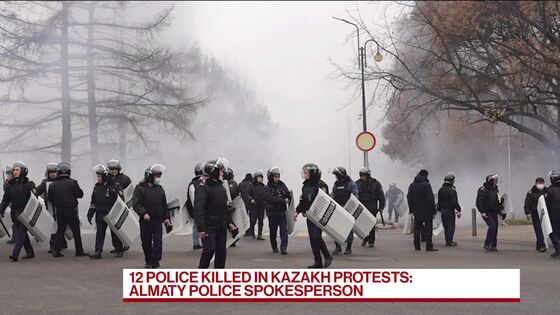 Main story: Kazakh President Says Troops Restored Order as Crackdown Goes On
Why Kazakhstan Protests Reverberate Beyond the Region: QuickTake
Uranium Surges as Unrest Grips World's Top Supplier
EU's Von Der Leyen Calls for End to Violence (5:15 p.m. Almaty)
The European Union is "monitoring the situation in Kazakhstan with a lot of concern," Commission President Ursula von der Leyen said. 
"I'm calling for the end of violence," she told reporters in a joint appearance with French President Emmanuel Macron in Paris. "The EU stands ready to offer its assistance where it can."
Macron said, "We are both concerned and very vigilant. We call for de-escalation."
China's Xi Calls Unrest 'Color Revolution': CCTV (5:06 p.m. Almaty)
China firmly opposes external forces deliberately fostering unrest and instigating a "color revolution" in Kazakhstan, state broadcaster CCTV cites President Xi Jinping as saying in a message to his counterpart.
China is willing to provide necessary support and help Kazakhstan through this difficult time, Xi said.
Authorities say 26 Protesters Killed, 26 Wounded (4:58 p.m. Almaty)
Twenty-six protesters were "liquidated" and as many were injured in the crackdown by security forces, the Interior Ministry said, according to Interfax.
A total of 3,811 people have been detained, the agency said.
Germany Says Violence Not Appropriate (4:35 p.m. Almaty)
German Chancellor Olaf Scholz's government said it was monitoring the situation in Kazakhstan with "great concern" and issued a call on "all those involved" to return to calm.
"We are convinced that violence can never be an appropriate response, and we therefore urge all those involved to foster de-escalation and to seek a peaceful solution to the situation," deputy government spokeswoman Christiane Hoffmann told reporters in Berlin.
Kazakh Oil, Gas Industry Operating Normally (3:29 p.m. Almaty)
Kazakhstan hasn't halted oil and gas production, Interfax reports, citing the Energy Ministry's press service. 
Tengiz field saw "a certain decline" in production due to export restrictions. Country's three refineries are operating as normal and are fully supplied with oil.
CSTO to Deploy Up to 2,500 Troops, Interfax Says (3:23 p.m. Almaty)
Collective Security Treaty Organization will deploy up to 2,500 troops in "peacekeeping" mission in Kazakhstan but can send more if needed, Interfax quotes the bloc's press secretary as saying.
Tokayev Threatens Protesters (2:51 p.m. Almaty)
Kazakhstan is dealing with an attack by local and foreign "bandits and terrorists" and security forces have been authorized to fire without warning, President Tokayev said in a televised address Friday. 
"The anti-terrorist operation is continuing," he said. "Those who don't surrender will be destroyed."
Almaty alone was attacked by 20,000 fighters, he said, criticizing his government for "sleeping through" the preparations of "terrorist groups."
In regions where the security situation has stabilized, authorities restored internet access for limited periods, he said, threatening to cut if off again if unrest flares.
Airport Assessing Damage, TAV Says (2:32 p.m. Almaty)
Almaty Airport has been cleared, TAV Airports Chief Executive Sani Sener told BloombergHT TV, after what he described as "vandalism" and looting.
Russian troops have landed at the hub and a military airport nearby, Sener said. He estimated the company will face "10 days of loss, at most" in its airport operations. 
Almaty Airport makes up 20% of TAV revenue, with 75% of the hub's revenue from cargo, ground operations and jet fuel.
China Says It Supports Efforts to End 'Chaos' (2:07 p.m. Almaty)
China cited "strong measures" by the authorities in Kazakhstan to crack down on the unrest, Foreign Ministry spokesman Wang Wenbin told a regular news briefing Friday in Beijing.
"China supports all efforts that help the Kazakh authorities end the chaos as soon as possible, firmly oppose external forces' acts to deliberately create social unrest and incite violence," Wang said. 
Russia Helps Retake Airport (1:56 p.m. Almaty)
Russian paratroopers helped in the operation to retake the Almaty airport, the Defense Ministry said. Andrey Serdyukov, the commander of the Russian Airborne Troops, will head the Collective Security Treaty Organization operation in the country. 
Moscow is using 75 planes to fly troops into Kazakhstan, according to the ministry. Those forces will also guard Russia's Consulate General and other important objects.
Tokayev Says Order Generally Restored (6:59 a.m. Moscow)
Tokayev told a meeting of law enforcement authorities that order had largely been restored in all regions of the country, according to a post on his official website. He said local authorities were in control of the situation, although he blamed "terrorists" for continuing to use weapons to damage property. He vowed to press ahead with operations, saying that the joint security forces had begun to arrive.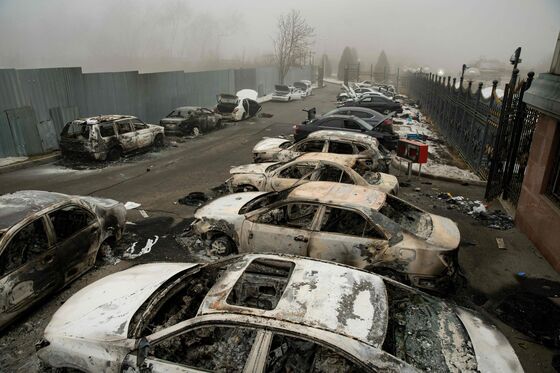 Interior Ministry Says Over 3,000 People Detained (6:47 a.m. Moscow) 
The Kazakh Interior Ministry said more than 3,000 people had been detained, Interfax reported, citing an agency statement. The ministry said 26 people had been killed and 18 were injured. 
Biggest Kazakh Oil Field Adjusts Output (09:08 p.m. Moscow) 
Kazakhstan's biggest oil producer has altered output at the giant Tengiz oil field amid unrest and protests in the country. "There has been a temporary adjustment to output due to logistics," Tengizchevroil, the field's operator, said in a statement. It added that "a number of contractor employees" had gathered at the field in support of the protests across Kazakhstan.
Troops Clear Main Square in Almaty, Tass Reports (7:14 p.m. Moscow) 
Troops cleared the main Republic Square in Almaty after many protesters fled when shooting started, Tass reported, citing an eyewitness account. Witnesses said there were dead and wounded at the scene, though there was no official confirmation of fatalities, it said. Government forces also regained control of the city administration building and the presidential residence in Almaty, Tass reported, citing Khabar-24 TV.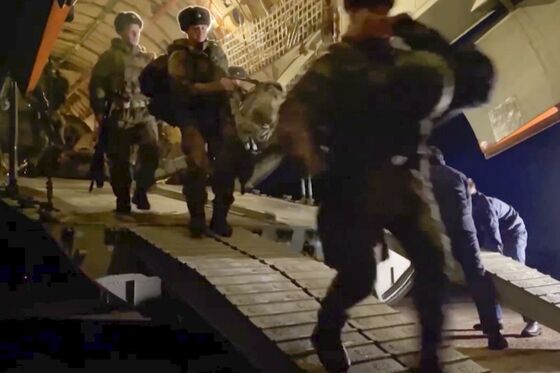 Blinken Calls for 'Rights-Respecting' Resolution to Crisis (6:37 p.m. Moscow) 
U.S. Secretary of State Antony Blinken urged the Kazakh government to seek a "peaceful, rights-respecting resolution to the crisis" after a phone call with his counterpart the country, Mukhtar Tuberculin. The U.S. will back the country's "constitutional institutions and media freedom," the department said in a readout of the phone call. 
The European Union expressed "great concern." Josep Borrell, the EU's foreign policy chief, said on Twitter that "rights and security of civilians must be guaranteed."