Rupiah Slides To Lowest Point Against Dollar Since 1998
(Bloomberg) -- Indonesia's rupiah weakened past 15,000 per dollar for the first time in 20 years as sentiment toward emerging-nation assets soured and oil prices jumped.
The currency has tumbled almost 10 percent this year as rising U.S. interest rates have boosted the dollar and Indonesia's current-account deficit has left the economy exposed to the financial turmoil that afflicted Turkey and Argentina. Crude prices have almost tripled since February 2016, ratcheting up the cost of imports.
"Given the rise in U.S. interest rates, higher oil prices which may see a wider trade deficit, and a stronger dollar in recent days, it was proving difficult for Bank Indonesia to hold the line at 15,000," said Khoon Goh, head of research at Australia and New Zealand Banking Group Ltd. in Singapore. "If sentiment doesn't improve, we risk further weakness towards the 15,200 region."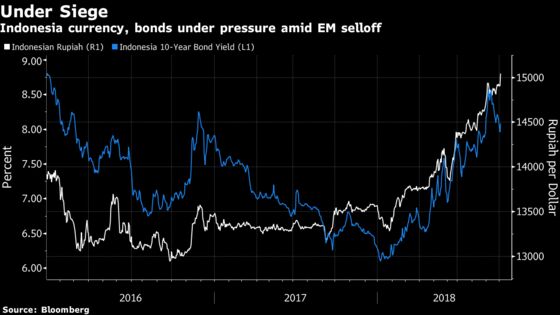 The rupiah has weakened even as Bank Indonesia has intervened "in a measured way" to limit its decline. The central bank has also raised interest rates five times since May to shield the currency from the emerging-market rout. The currency dropped to as low as 15,051 per dollar on Tuesday, the weakest since the Asian financial crisis in July 1998, before trading 0.9 percent lower on the day at 15,045.
"Indonesia is now a net importer of oil, so the higher crude prices and weaker rupiah are fanning concern that inflation will quicken," said Toru Nishihama, emerging-market economist at Dai-ichi Life Research Institute in Tokyo. "With oil prices rising, the Fed normalizing policy and Indonesia having fiscal and current-account deficits, negative speculation is harder to contain."
The government is monitoring the rupiah and possible risks to banks, though for now the currency's adjustment has been managed well by the sector, Finance Minister Sri Mulyani Indrawati told reporters on Tuesday. Authorities will continue to take steps to bolster the economy, she said.
"Bank Indonesia will certainly keep managing the exchange rate, so that we will be able to guard the economy and adjust to a new equilibrium level," she said.
Indonesia's bonds have also been under pressure. The benchmark 10-year bond yield climbed 14 basis points Tuesday to 8.15 percent, having increased from 6.32 percent at the end of 2017. The nation's key stock index slid 1.2 percent, taking this year's decline to 7.6 percent.
In addition to raising borrowing costs, Bank Indonesia has announced the introduction of domestic non-deliverable forwards, which it says will provide an alternative for companies wanting to hedge dollar exposure and help reduce rupiah volatility.
Indonesia is also close to finalizing incentives for exporters holding billions of dollars in banks to encourage them to convert the funds into rupiah, as the central bank steps up efforts to shield the local currency from a global emerging-market rout.