Rupee Rallies to Two-Month High as Dispute Over Reserves Eases
(Bloomberg) -- The Indian rupee rallied for a sixth day, set for the longest winning streak in more than a year, after the central bank signaled a compromise with the government in their dispute over reserves.
The rupee advanced 0.5 percent to 71.2825 per dollar as of 10.12 a.m. in Mumbai, the strongest level since Sept. 4, and making it the biggest gainer among Asian currencies. Sovereign bonds also gained as the yield on the benchmark 10-year bond fell three basis points to 7.76 percent.
The Reserve Bank of India and the government have been sparring publicly over how much capital the central bank needs and how tough its lending rules should be. At a board meeting Monday, the RBI agreed to form a panel to study a demand for sharing a part of its capital.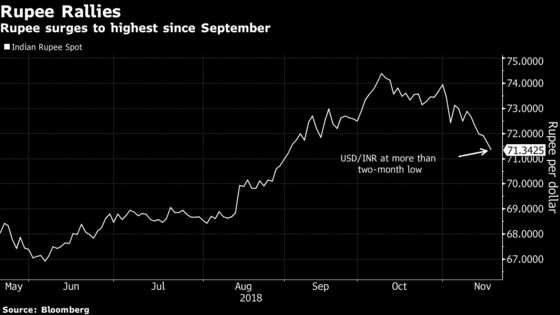 "The setting up of a committee to examine reserves management does not automatically mean reserves will be utilized by the government, thus alleviating some market fears," said Mitul Kotecha, senior emerging markets strategist at TD Securities in Singapore. "The rupee is outperforming in the wake of the RBI board meeting."
Yet the Indian central bank did not immediately yield to demands for easing lending norms for weak banks while retaining capital buffers for banks at 9 percent.
"The RBI appears to have gone some, albeit not all the way, towards appeasing the government in its demands," Kotecha said. "The fact that this has happened without resignations or intensifying friction has given markets a major dose of relief."