Rupee Gains Most in Six Months as Crude Dips, Banks Dump Dollar
(Bloomberg) -- The Indian rupee rallied by the most since November as crude prices fell on the prospect of a supply increase, easing concerns about inflation and widening deficit for the oil-importing nation. Traders also reported dollar selling by banks for foreign clients and the central bank.
The rupee advanced 0.9 percent to close at 67.7725 per dollar in Mumbai, after touching an intraday high of 67.7113. OPEC and its allies are likely to gradually boost oil output in the second half of the year to ease consumer anxiety as prices trade near $80 a barrel, said Saudi Arabia Minister of Energy and Industry Khalid Al-Falih.
Brent's advance to the highest in more than three years and concerns over Prime Minister Narendra Modi's re-election bid had unnerved investors in India, helping to send the rupee close to a record low. The nation is susceptible to fluctuations in oil prices, with every $10 rise worsening its current account balance by 0.4 percent of GDP, according to Nomura Holdings Inc.
"The rupee is seeing a healthy correction as it had declined too fast," said Anindya Banerjee, a currency analyst at Kotak Securities Ltd. in Mumbai. "It's too early to say how long the gains will last. Oil is the cameo here, and unless its trajectory changes completely, it's going to be a difficult path for the rupee."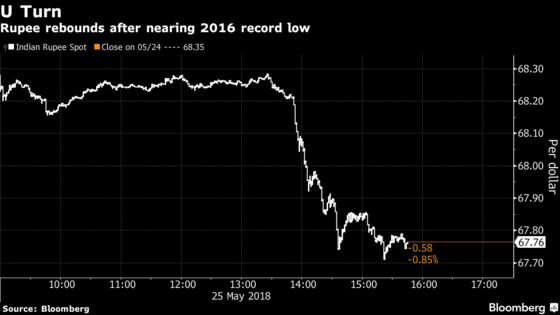 As news of the agreement by OPEC and its allies filtered through, traders also reported selling of dollars by foreign banks for clients, and state-owned banks for the Reserve Bank of India. The central bank didn't immediately respond to a query.
Foreigners have reduced holdings of rupee-denominated government and corporate bonds by 4.4 billion rupees this quarter, the highest on record based on data compiled by Bloomberg since 1999. The rupee has declined 5.8 percent against the dollar this year in Asia's worst performance.
Sovereign bonds also advanced, with the yield on the benchmark 10-year bonds falling 8 basis points to 7.79 percent. Bonds have declined in eight of nine previous months as surging oil prices fanned concerns about higher inflation and monetary tightening by the central bank.
The rupee had got stretched and is now reverting to normal, said Ashish Vaidya, Mumbai-based head of trading at DBS Bank. Signs of stability in global macros over the past few trading sessions with crude oil prices and U.S. Treasury yields pulling back are helping the currency, he said.