Dalio, Summers Warn Inflation Could Derail Recovery: Qatar Forum
Billionaire investor Ray Dalio and former Treasury Secretary Lawrence Summers told the Qatar Economic Forum that the U.S. is headed for a period of overheating and inflation that could threaten the recovery.
Another former U.S. Treasury Secretary, Steven Mnuchin, said chances are "higher, as opposed to lower, this is ongoing inflation," and warned the Fed needs to go into a period of normalizing interest rates.
Earlier, Mukesh Ambani said he plans to transform Reliance Industries Ltd as it aims for net-zero carbon emissions by 2035. The three-day event kicked off with Qatar's ruler calling on countries to avoid hoarding vaccines and South Africa's President urging developed economies to aid Africa's recovery.
Tuesday's sessions begin at 9 a.m. Doha time (7 a.m. U.K) with Ruth Porat, chief financial officer at Alphabet Inc.
WHO Sees African Vaccine Manufacturing as Imperative (5:10 p.m. Doha)
Africa, which until recently hasn't had the same scale of devastation from the Covid-19 pandemic as other regions, is now facing a steep increase in cases and deaths "and doing this without vaccines," World Health Organization Director-General Tedros Adhanom Ghebreyesus said.
With only about 2% of the continent's population vaccinated, it's becoming increasingly clear that in a crisis Africa can't rely solely on imports of shots or medical products from the rest of the world and must build that capacity on the continent, he said.
Earlier, Rwandan President Paul Kagame said African nations are establishing partnerships to enable the production of vaccines within the continent. Africa Centres for Disease Control & Prevention Director John Nkengasong said the continent needs strong partnerships that allow the transfer of technical know-how to enable production and manufacturing.
Mnuchin Warns of Inflation Risk (4:50 P.M. Doha time)
Mnuchin said that the Fed needs to go into a period of normalizing interest rates. "The question is really how quickly they do that and how they do that in an effort to control inflation," he said.
Dalio, Summers Send Dollar to Session Lows (4:40 p.m. Doha)
Ray Dalio, billionaire founder of Bridgewater Associates, the world's biggest hedge fund, said he doesn't think the Fed can tighten more without negative rates and is more worried about inflation in financial assets.
"It's easy to say that the Fed should tighten, and I think that they should put on the brakes a little bit," said Dalio. "But I think you'll see a very sensitive market, and a very sensitive economy because the duration of assets has gone very, very long," he said.
"Much of the consensus of professional forecasters in February was that we would have inflation just above 2% this year," Summers said. "We've already had more inflation than that in the first five months of the year."
That suggests "to me that people should not just modify their forecasts but should think about what their errors of thinking were that led them to be so far off in their forecasts," he said.
The Bloomberg Dollar Spot Index fell to a session low at 9:20 a.m. in New York as Dalio and Summers spoke.
Ambani Vows Sustainable Future for Reliance (4:00 p.m. Doha)
Mukesh Ambani said that every unit making up Reliance would have to pivot as the conglomerate moves toward net-zero. "We have no option as a society, as a business but to really adopt a sustainable business model," Ambani said.
When asked if this green push will require dialing back on some of Reliance's businesses, Ambani said "it means transforming our businesses and integrating that with the future," without sharing more details.
The pivot toward a greener, cleaner version of itself won't be an easy one for India's most valuable company, which got about 60% of revenue from its hydrocarbon-fueled energy operations for the year ended March.
Armenia Must Change Constitution, President Says (3:45 p.m. Doha)
Armenian President Armen Sarkissian said his country needs to learn from its mistakes during last year's war with Azerbaijan and pursue reforms that include changing its constitution.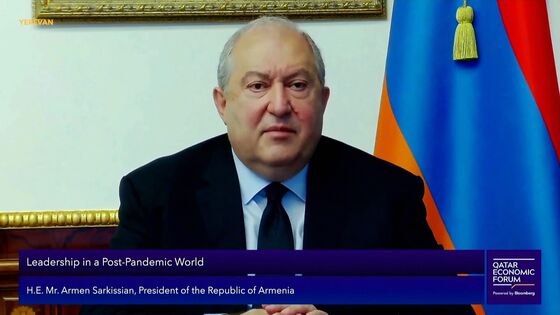 "With the current constitution -- which is neither parliamentary nor presidential, it's super-prime ministerial -- I think there are people that have huge power but no responsibility," Sarkissian said in an interview at the Qatar Economic Forum broadcast Monday. "We have to go back to presidential" system, he said.
Ramaphosa Demands More IMF Reserves for Africa (3:18 p.m. Doha)
In an interview at the QEF, Ramaphosa said Africa needed more support to counter the impact of the pandemic.
"We need more because our economies are going to need a lot of support and it is only fair," Ramaphosa said. "The continent has been growing by leaps and bounds and should receive that type of support because all of us must get out of this economic slump that has been brought on to us by Covid-19."
Sub-Saharan Africa's gross domestic product shrank 2.4% in 2020 and will likely only grow 2.8% this year, compared to the 7.7% expansion forecast in Asia and 3.9% in Europe, according to the World Bank. The United Nations Economic Commission estimates that Africa's recovery from the pandemic will cost $400 billion.
Hoarding Vaccines 'Will Cripple' Global Efforts (3:07 p.m. Doha)
"Racing and competition by some countries to obtain quantities that exceed their needs will cripple international efforts to control the pandemic globally in addition to obstructing the development process in the developing and poor countries," Sheikh Tamim said in an opening address.
He also reiterated Qatar's economic plans, saying the country would push ahead with a key liquefied natural gas project despite the effects of the pandemic. "In preparation for the next stage we are keen to adapt a balanced economic policy by continuing to expand the gas project in the North Field," he said.
Qatar aims to increase LNG production by 40% by 2026 and use that revenue to help diversify sources of income.