Rubin Says Treasury Should Substantially Boost Maturity of Debt
(Bloomberg) -- Former U.S. Treasury Secretary Robert Rubin cautioned against taking rock-bottom interest rates for granted and said the government should take advantage of the moment by substantially increasing the maturity of its debt, including possibly issuing ultra-long bonds.
In a paper for the Peterson Institute for International Economics released on Wednesday, Rubin and his co-authors suggested the change in the Treasury's borrowing strategy as part of a broad-based revamp of fiscal policy.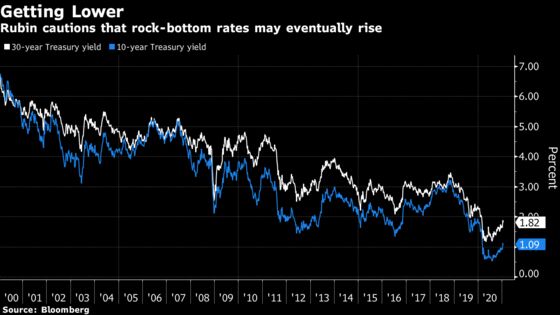 While significant budgetary support for the economy is needed in the near term to fight the fallout from the coronavirus pandemic, longer-run changes in the fiscal framework would enhance the government's ability to counter future shocks, Rubin, Nobel Prize-winning economist Joseph Stiglitz and Lazard Group LLC executive Peter Orszag wrote in the paper.
They proposed "reducing the budget's exposure to interest rate variation while also making it respond more automatically" to the economy's ups and downs and to an aging society.
Among their recommendations: automatic adjustments to Social Security in line with changes in life expectancy and a new federal infrastructure program that would provide states and localities with more funding when the economy turned down.
The research note by the three former Democratic policy makers -- Orszag served as budget director and Stiglitz as chief White House economist -- comes as President-elect Joe Biden is preparing to unveil on Thursday his budgetary plans to boost and rebuild the economy. While the bulk of the paper's proposals would require congressional approval and thus could be difficult to implement, the incoming Democratic administration could decide on its own to lengthen the maturity of Treasury debt.
"At today's yield curve, I'd do as much as I could" to extend the maturity, Rubin said in an interview, noting that could be accomplished through stepped-up auctions of 30-year Treasury bonds and other longer-dated securities. At the end of last year, the average maturity of outstanding marketable government debt was about 70 months, according to the paper.
In the research note, the authors wrote that they "support creation of bond maturities beyond the 30-year bond to preserve the flexibility to take advantage of relatively flat yield curves."
But Rubin was more cautious in the interview. "I'm not arguing against it," he said. "I'm just saying it's something you'd want to study very carefully because it's something new."
In their policy brief, Rubin, Stiglitz and Orszag said that a reasonable base case is for the continuation of very low interest rates for some time. But they warned against taking that as a given.
Noting that many analysts think rates probably will remain low for the rest of the decade, Rubin said, "It was our view that probably underestimates the likelihood of an increase in rates at some point."