Ross Plans Early-June China Trip as Trade Talks Enter New Phase
(Bloomberg) -- U.S. Commerce Secretary Wilbur Ross plans to visit Beijing in early June to work out the details of a broad commitment from China to increase its purchases of American goods.
The Trump administration eased fears of a trade war last week by agreeing to drop its tariffs threats while the two countries continue to negotiate. In a joint statement on Saturday, China promised to import significantly more from the U.S. -- particularly in energy and farming goods. The statement was short on details and put no dollar target for cutting the trade gap.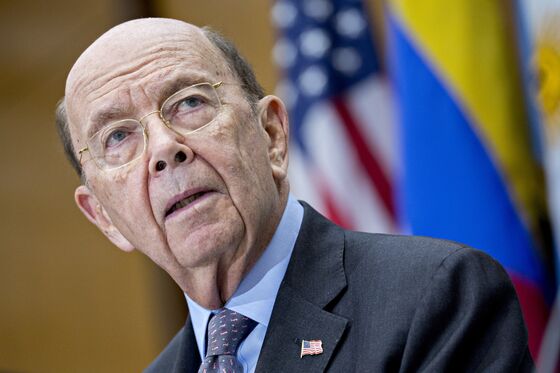 The Commerce Department confirmed Tuesday that Ross will travel to China early next month.
Ross could also discuss a U.S. plan to relax penalties against Chinese telecommunications-equipment maker ZTE Corp. Commerce blocked ZTE's access to U.S. suppliers earlier this year, saying the company violated a sanctions settlement related to sales to Iran and North Korea. The Shenzhen, China-based company, which depends on U.S. components, suspended all major operations because of the ban.
But Trump earlier this month instructed Ross to come up with a new solution that allows ZTE to "get back into business, fast."
Trump said Tuesday that his administration is looking into the ZTE case as a "favor" to President Xi Jinping, adding that the trade talks with China are just starting.
"Their president is a world-class poker player," Trump said of Xi. Trump said he would "envision" a revised penalty for the company including a requirement that it appoint a new board of directors and a "very large fine" of perhaps $1.3 billion.
Trump added on Tuesday that he's "not really" pleased with the results of U.S. trade talks with China so far, during an Oval Office meeting with South Korea President Moon Jae-In.
Ross's trip to China will come shortly after a key deadline for steel and aluminum tariffs expires. The U.S. has imposed duties on steel and aluminum imports, but given the European Union and some other countries until June 1 to make the case for being permanently excluded from the levies.
Ross has been the U.S. point person in negotiations with EU Trade Commissioner Cecilia Malmstrom over the duties. The EU is signaling a readiness to accept American import quotas and slash some of the bloc's own duties in return for a permanent waiver.