Ross Likens U.S.-China Trade Fight to 'Painful' Start of a Diet
(Bloomberg) -- The U.S. can deal with the pain of a trade dispute with China because of the strength of the American economy, Commerce Secretary Wilbur Ross said.
It makes more sense to take an "aggressive stance" with China when the U.S. economy is doing well, Ross said, citing an unemployment rate that's hovering around its lowest level since 2000. "That's the right environment within which to do it, because there's more ability for the economy to absorb whatever short-term problems may come," he said.
"I liken it a little bit to going on a diet: It's no fun in the beginning, maybe a little bit painful, but at the end of the day you're kind of happy with the end result," Ross said Monday at an event in Washington hosted by the U.S. Chamber of Commerce.
Ross's comments are the latest sign the Trump administration doesn't intend to back down from a trade spat with China that economists warn could undercut growth in the world's two largest economies. The public has until July 31 to comment on the administration's plan to impose tariffs on a further $16 billion in Chinese imports. U.S. Trade Representative Robert Lighthizer said last week that tensions with China are a "chronic problem" that could take years to resolve.
The U.S. has already slapped duties on $34 billion in Chinese goods, and President Donald Trump has said his administration is willing to impose tariffs on effectively all imports from the Asian nation. The White House is trying to narrow America's trade deficit with the Asian nation and make it easier for U.S. firms to export goods and invest there.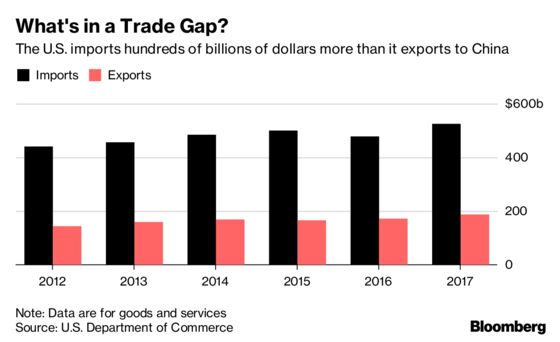 Chinese Foreign Minister Wang Yi said Monday that Beijing would be willing to reopen trade negotiations with the U.S. if the Trump administration takes a less combative approach.
"China's door of dialogue and negotiation remains open, but any dialogue must be based on equality and mutual respect," he said during a joint news conference with U.K. Foreign Secretary Jeremy Hunt in Beijing. "Any threats or pressure by one side will only be counterproductive."
Almost two months have passed since China and the U.S. last held official talks, though both sides have continued to hint at restarting negotiations. While the two nations seemed close to a deal in May, the collapse of discussions left Chinese officials embarrassed and they're worried that they might get played again, according to three Chinese officials who asked not to be identified discussing strategy.