Romania Extends Interest-Rate Pause Amid 'Greed Tax' Paralysis
(Bloomberg) -- Romania left borrowing costs unchanged as the central bank complains that surprise tax measures to shore up the budget are restricting its ability to function.
The benchmark was kept at 2.5 percent for a sixth straight meeting, matching the predictions of all but one economist surveyed by Bloomberg. The fiscal package, which triggered the country's biggest market crash since the global financial crisis, includes a levy on lenders that the government accuses of overcharging on loans.
For now, three rate hikes last year have brought inflation back into the target band, where it will remain for at least the next three quarters, according to central bank Governor Mugur Isarescu.
"The new banking tax and the contradictory signals received ever since from the political environment have increased the complexity of the monetary-policy framework," said Eugen Sinca, a Bucharest-based economist at Erste Group Bank AG.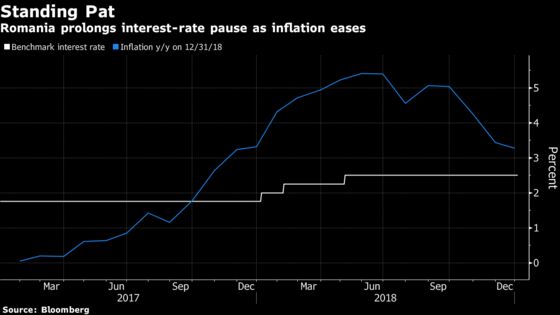 Romania's monetary-policy stance is in line with a more dovish mood among the world's major central banks amid concerns over global growth. Closer to home, Poland prolonged a record period of all-time-low interest rates on Wednesday, while the Czech Republic and Serbia maintained their benchmarks on Thursday.
While Romanian inflation is at its lowest level in a year and the economy is slowing, a plunge in the local currency to a record low risks stoke price pressure in the coming months and the tax spat leaves the central bank with little room to maneuver. Talks with the government on how to resolve their standoff will resume on Feb. 18.
The "small" decline in the leu won't have a major impact on inflation, said Isarescu, who doesn't see an easy resolution over the Finance Ministry's fiscal initiatives.
"We're not denying the government's right to introduce new taxes but the connection with monetary policy benefits no one," central bank Governor Mugur Isarescu told reporters in Bucharest. "Finding a mutually agreed solution will be tough but we're continuing dialogue."