Romania Cites Stalled Recovery in Cautious Rate-Hike Move
Romania raised interest rates less than expected, surprising some investors who have expected the central bank to lift borrowing costs faster to tackle decade-high inflation and catch up with more aggressive hikes by its regional peers.
The central bank raised borrowing costs by 25 basis points to 2%, a move predicted by five out of 11 economists surveyed by Bloomberg. The other six expected a 50 basis-point hike. It also extended the rate corridor to +/- 1 percentage point, boosting the rate at which commercial banks borrow from the central bank to 3%, while keeping the deposit facility rate at 1%.
While Romania had the highest rates in the 27-member European Union during the summer, it's now lagging behind other eastern members of the bloc outside the euro area that have pursued more aggressive policy tightening.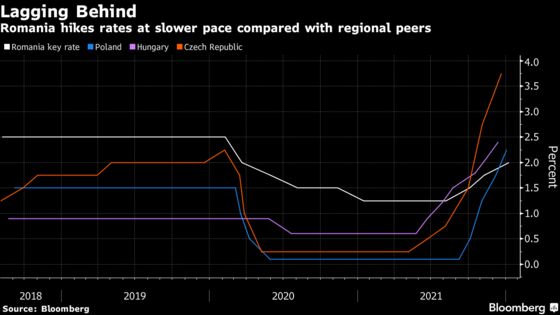 "A faster key rate hike would've been justified, considering that the central bank is significantly behind the curve and Romania's economic fundamentals look worse that its regional peers," said Ionut Dumitru, an economist at Raiffeisen Bank in Bucharest. "Changing the corridor does give the bank more flexibility, but with inflation poised to reach 10% in April, I think the key rate should be the primary tool used." 
The central bank has stuck to a reluctance to pursue a quicker pace of rate hikes to avoid smothering the country's post-pandemic economic recovery despite a persistent spike in energy prices that is driving inflation. It's also poised to have among the widest budget deficit and current account deficits in the European Union this year, according to Eurostat. 
"Recent developments in high-frequency indicators point to a standstill in economic activity in the fourth quarter of 2021," the bank said in a statement. It also cited "the fourth pandemic wave, the energy crisis and supply bottlenecks."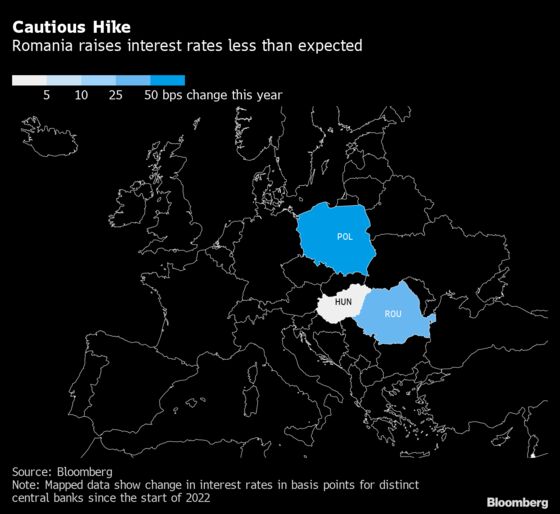 Consumer prices were 7.8% higher from a year earlier in November. The central bank doesn't expect inflation to return to its target band until late 2023, with price growth topping 5% at the end of this year. 
While the short-term inflation outlook will likely worsen because of the energy prices and those of processed food, on the longer term, the spike may trigger a "disinflationary base effect," the bank said.