Risks to U.S. Economy Linger With Trade Truce Prolonging Uncertainty
(Bloomberg) -- The U.S.-China trade cease-fire is likely to boost shipments of American goods, but that may be the biggest gain to the U.S. economy from the temporary deal as the threat of import levies lingers.
U.S. President Donald Trump and Chinese President Xi Jinping agreed over the weekend to halt new tariffs as the countries intensify talks to resolve a trade war. The deal, with a deadline of 90 days to make progress on key issues, includes China promising to increase purchases of U.S. agricultural and industrial goods.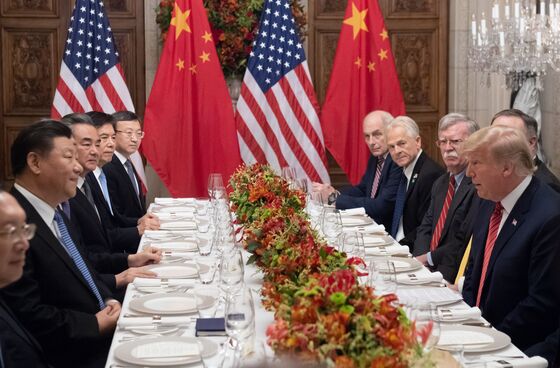 The pause in hostilities leaves intact two headwinds in the outlook: tariffs already in place that may push up prices for some consumer goods, and the potential for further levies that's delaying investment plans as companies face uncertainty about their costs.
"It's better than nothing. The 25 percent tariffs have not been imposed -- that's the good news; The bad news is that it's still hanging over everybody's head," said Ward McCarthy, chief financial economist for Jefferies LLC, who said he's slightly lowering his growth forecast and increasing his inflation outlook for next year.
"It prolongs the period of uncertainty in which it's really difficult for businesses to make investment decisions, so that's going to chip away at growth over the course of 2019," McCarthy said.
Read More of Bloomberg Economics: G-20 Deal Reprieve for China GDP, U.S. Markets
The agreement in principle between the world's two largest economies, made during a dinner held during the Group of 20 summit in Argentina, is a salve for the U.S. markets, offering a glimmer of hope that a resolution to a protracted trade war is possible. It's also a relief for American firms, which so far have faced higher prices amid tariffs on thousands of products from steel to heavy machinery to vacuum cleaners.
U.S. companies are likely to use the 90-day window to again accelerate purchases of foreign goods ahead of any tariffs, a move they made earlier this year, McCarthy said.
The effects will be reflected in economic data over the next several months, with "better two-way trade volumes" and "some precautionary inventory building of imported goods to hedge against the risk that the tariff hikes are back on again in 2019," according to CIBC World Markets chief economist Avery Shenfeld.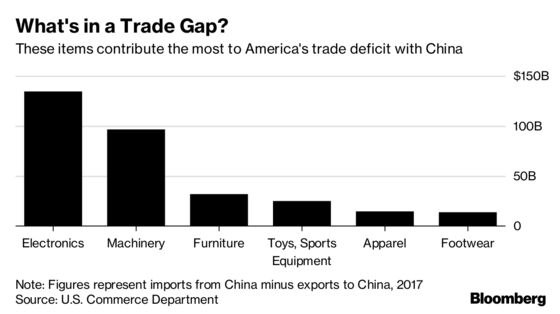 That may help ease the U.S. trade deficit in coming months. The indicator widened more than forecast in September, to a seven-month high, including a 29 percent drop in U.S. soybean exports. Data out this week are forecast to show a further widening in October, to $55 billion.
The U.S. merchandise-trade deficit, which economists monitor to get clues on the current quarter's growth, also increased to a second straight monthly record as exports declined. Tariffs have already shown up in overall growth: the drag on third-quarter gross domestic product growth from trade matched the worst since 1984, though the economy remained on solid footing.
Companies have also already slowed investment, with U.S. factory orders for non-military capital goods, excluding aircraft, weak in October for a third straight month. The Institute for Supply Management's manufacturing index fell to a six-month low in October.
"Uncertainty remains, and the greatest risk to the outlook, in our view, is that companies begin to get more cautious, perhaps moving to the sidelines and adopting a wait-and-see attitude," said Michelle Girard, chief U.S. economist for Natwest Markets Securities. That could lead to a pullback in both business investment and hiring -- two strong drivers of growth over the last two years.
A silver lining? Consumers, who are still spending. Other indicators show firms, helped by the corporate tax cuts, are still expanding to keep pace with strong demand.
"We've been living with this uncertainty on trade all year, but it's hard to find clear evidence in the hard data" of companies halting investment or tariffs killing business, said Brett Ryan, U.S. economist for Deutsche Bank Securities. "While U.S. companies may be voicing concerns, as they should, as long as the domestic demand profile looks strong, they seem pretty optimistic. Consumers are cranking it out."