Risks Stack Up for Philippine Central Bank Chief in Second Year
(Bloomberg) -- Philippine central bank Governor Benjamin Diokno's plate is full as he starts his second year in office.
Diokno must enforce a range of new laws, including ones allowing the central bank to issue bonds and boost the country's stubbornly low saving rate. And he ends his first year in office with a fresh global worry: the coronavirus outbreak weighing on tourism, trade and investment.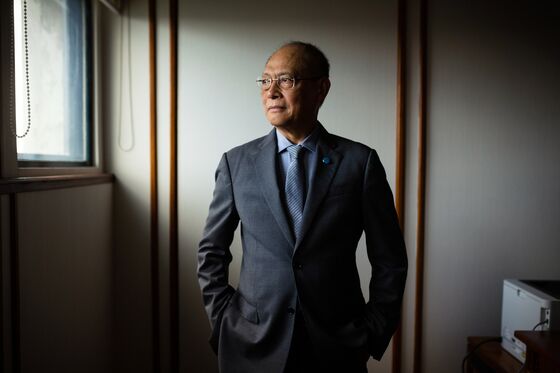 The former budget secretary has overseen a marked easing of monetary policy since he was picked to head the Bangko Sentral ng Pilipinas in March 2019. In his first year in office Diokno has lowered the benchmark interest rate by a full percentage point and cut banks' reserve requirement ratio by 4 percentage points.
He has distinguished himself from predecessors by giving precise signals of the size and timing of monetary policy moves.
Diokno "has been very clear on where the rates are headed and what the BSP's role is in the larger economy," said Howie Lee, an economist at Oversea-Chinese Banking Corp. in Singapore. "The only element that will hinder him from his pro-growth stance is the possible rise of inflation."
While his agenda includes politically contentious areas like tax evasion and money laundering, Diokno believes his legacy will be tied to his stewardship of the Philippine economy.
"I want to be remembered as a governor with low inflation and a low unemployment regime," he said in an interview last month.
Here's a rundown of Diokno's goals and challenges in the quarters ahead:
The global spread of the novel coronavirus is pressuring policy makers, with the OECD warning that the world economy faces its "greatest danger" since the financial crisis more than a decade ago.
Robust domestic consumption means the Philippine economy is less exposed to virus risks than many of its regional peers, but "it doesn't mean that the Philippines isn't exposed," said Eugenia Victorino, Singapore-based head of Asia strategy at Skandinaviska Enskilda Banken AB.
Tourism is taking a beating amid restrictions on travelers from South Korea and China -- the Philippines' top sources of tourists. Softening demand, as well as worldwide supply disruptions, also could curb investment.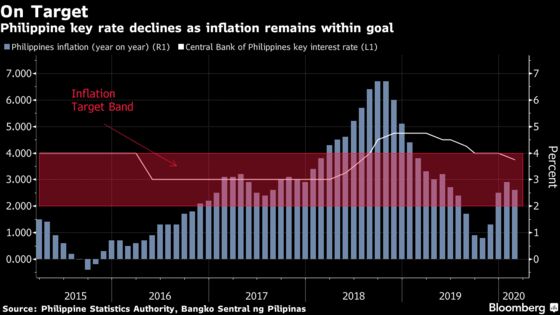 Policy makers reduced the benchmark interest rate by 25 basis points in early February. Diokno has said he's open to cutting the key rate by more than the 50 basis points planned this year if conditions worsen, though he argues that ramping up government spending would do more to boost the economy than monetary easing.
Bangko Sentral is consulting money-market players over plans to issue its own securities, aiming to begin sales in the third quarter, Diokno said.
Issuing securities, which was allowed under the central bank charter approved last year, is intended to mop up excess liquidity in the financial system, and should help the central bank better influence market interest rates.
Diokno also is in charge of:
an Islamic banking law that aims to boost Shariah-complaint finance in the Philippines;
a law exempting central bank gold purchases from taxes, allowing the bank to increase the amount of bullion in its reserves; and
implementing rules on fund transfers and payment settlements amid rapidly changing technology
The Philippines and Lebanon have among the world's strictest measures ensuring the secrecy of deposits, which critics say could be abused by tax evaders. In the past, it took a near-blacklisting by the Paris-based Financial Action Task Force for the Philippines to change its money-laundering laws.
Drumming up support for these initiatives "will require a deep dive into the political sphere," said Nicholas Mapa, senior economist at ING Groep NV in Manila.
The need for stricter laws against dirty money was highlighted Friday amid an investigation into possible illicit funds linked to online casinos that mostly cater to Chinese gamblers.
"That's a tall order," SEB's Victorino said. Increased use of digital banking carries risks of cybercrime and could run up against capacity constraints at traditional banks, she said.
The Bangko Sentral also wants to boost the use of digital payments as it seeks to reduce use of cash to 50% of total transactions by 2023, from 80% in 2018.
All in all, it's an ambitious agenda.
"It seems he's emphasizing the heart of central banking," ING's Mapa said of Diokno's priorities. "I think he'll be able to make do on part of them."