Risk Is Back, Yuan Shorts, Vaccines: A Week in China's Markets
(Bloomberg) -- Risk-on makes a comeback, shorting the yuan becomes free, and a ballooning vaccine scandal smashes China's top-performing stocks. Here's a roundup of what we've been talking about in China markets this week.
Chinese investors finally got a taste for risk. Encouraged by the government's biggest push yet to invigorate this year's slowing economy, stocks enjoyed their biggest three-day rally since August 2016. Some called it the end of President Xi Jinping's deleveraging campaign, others said fiscal and monetary authorities are by no means going aggressive on stimulus. Authorities are at least shifting gears, tweaking policies and reshuffling priorities to mitigate increasing risks to growth. Government bonds sold off, sending 10-year yields as high as 3.57 percent this week.
That's all spurring a comeback in things like banking shares and the repo market. Bond traders are borrowing at a record pace to fund their debt investments, taking China's new stimulus push as a sign that it's fine to love leverage again. Let's see how long that lasts, given excess risk in the financial system is exactly what authorities want to avoid.
On the stocks side, Chinese lenders have been some of the biggest beneficiaries of the central bank's steps to ensure liquidity is ample. Banks still trade below book and have the second-lowest average analyst rating among all 23 industries on the CSI 300.
Read more:
China developers' buyback addiction 
The yuan dropped for a seventh week, its longest stretch since 2015. You can now pay nothing to buy derivatives betting that the currency will continue its decline: 1-year forward points actually fell below zero for the first time since 2014. There was chatter that the People's Bank of China wants to encourage this kind of positioning -- at least there were no indications that they want to push back. The central bank may look to sell dollar-yuan in the spot market to then buy it back in the swaps market as a way to support the currency without depleting currency reserves, according to our Markets Live colleagues.
Read more:
Where are all the shorts?
Health care shares got slammed again as a scandal over fake vaccine data and low-quality medication envelopes China. The company at the center of the outcry, Changsheng Bio-Technology Co., has seen around $2.1 billion wiped off its market value in just two weeks. The outcry has spread across the whole industry -- which had been rare bright spot in China's equity market this year -- with shares of multiple pharma companies dropping by the daily limit. Some investors are seeing it as a good entry point for stocks that were perhaps wrongly implicated in the selloff.
Read more:
Even a broker's shares got slammed
This one's quite telling: if you want to have a go at timing the bottom in Hong Kong's equity market, be sure to track the number of buybacks. Click here for the full story.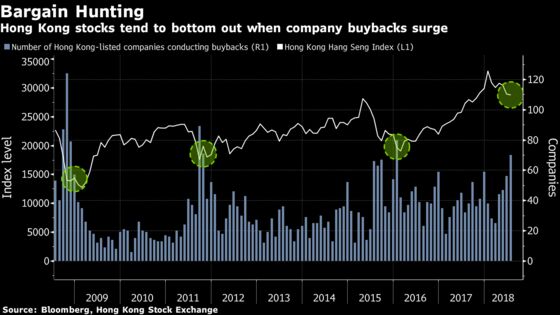 Here's what else caught our eye.
China's U-turn on a Facebook Inc. subsidiary.
Traders joke about how stocks make them no money.
An ex-Googler just became China's 12th richest person.
The ChiNext may be about to get its biggest IPO ever.
Qualcomm Inc.'s megadeal flops and China gets blamed.
Starbucks Corp. isn't doing so well in a nation of tea drinkers.
Maybe China should start hoarding gold.
U.S. airlines are changing the way they refer to Taiwan.