Rising Tensions With U.K. 'Regrettable,' China Tells Hammond
(Bloomberg) -- The British government agreed to host economic talks with China in June, even as Chinese Vice Premier Hu Chunhua told U.K. Chancellor of the Exchequer Philip Hammond he regretted the wavering relationship between the two countries.
Hu said it was "regrettable" that relations between the U.K. and China have seen "some fluctuations" since last August over tensions in the disputed South China Sea, which meant "a series of institutional dialogues and cooperation projects had to pause".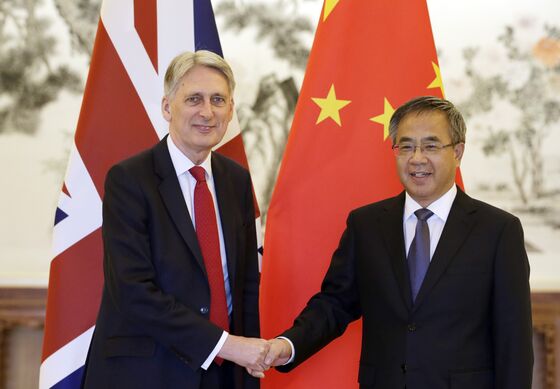 Tensions between the U.K. and China have been on the rise in the waters, one of the world's busiest shipping routes, where a number of countries claim territory. The chancellor canceled a trip to Beijing in February at the height of the diplomatic fallout, when Defence Secretary Gavin Williamson threatened to deploy a warship to Asia on its maiden voyage, saying it would be a show of strength against China's territorial aspirations in the region. A Chinese official accused Williamson of a return to a "Cold War mentality."
Nevertheless, the two men met Thursday as Hammond visited Beijing for the annual Belt and Road Forum for International Cooperation. They agreed the U.K. will host China at the 10th Economic and Financial Dialogue in London in June, which had been expected to take place last year.
In a statement, Hammond said the talks will "continue the golden era of relations" between China and the U.K., referring to a term used by former U.K. Prime Minister David Cameron while trying to reboot relations with Beijing.
However, Hu challenged the U.K. to live up to the promise. "Britain recently has many times said it is dedicated to promoting the Golden Era in relations between China and Britain," he said. "We hope Britain can earnestly respect China's core interests and important concerns, and that its actions are in keeping with what it says."
Hammond said at the time that Britain's ties with China were "important" and "complex."
On Thursday he shared Hu's regret "that over the last few months there have been some difficulties in advancing the positive course of the relationship that our leaders have set out -- of course you understand that the U.K. takes no position in relation to the issues in the South China Sea."
In September, China accused the U.K. of infringing on its sovereignty and violating international and Chinese law after a Royal Navy warship -- the HMS Albion -- sailed close to islands it claims in the South China Sea. The Albion's maneuver was an assertion of freedom of navigation, Reuters reported at the time.
China claims more than 80 percent of the South China Sea based on a 1947 map showing vague dashes -- the so-called nine-dash line. An international arbitration panel in the Hague ruled in 2016 that Beijing's claims have no legal standing.