Rising Demand for Loans in China Conceals Economic Weakness
(Bloomberg) -- The improvement in China's credit figures in recent months overstates actual demand for loans from the real economy, according to economists, suggesting that a recent stabilization in output will be hard to sustain.
The amount of medium and long-term loans to non-financial companies has been rising compared to a year earlier since August, a trend that usually suggests improving sentiment as companies borrow more to investment.
However, not all the increase in lending is going to productive uses, with some helping local government financing companies repay or rollover debt, according to analysts from Everbright Securities Ltd and ANZ Bank China Ltd.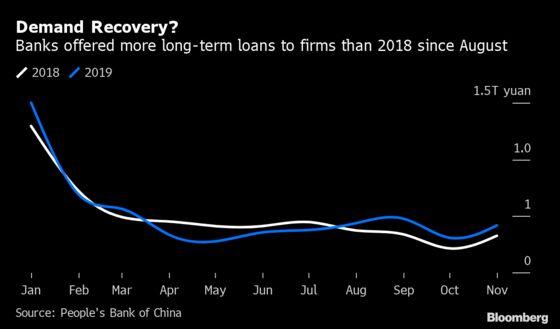 "Both new loans and aggregate financing could have been affected by debt swaps," Zhang Wenlang, an analyst at Everbright Securities Co. in Beijing, wrote in a note on Tuesday. He estimates that 7%, or about 277 billion yuan ($40 billion), of new loans in the third quarter were used to repay or swap existing debt, and between 5% to 12% of newly-added loans will likely be used for that in coming quarters.
There's increasing concern about the financial health of some of the so-called local government financing vehicles, with one in northern China recently narrowly escaping a bond default and a central bank adviser warning this week about systemic risks in the sector. If local governments are borrowing just so they can keep paying for older debt, that would add to concerns about how sustainable both current economic growth and the nation's debt burden are.
In the past 10 years these local government bodies have amassed a huge pile of debt as they've borrowed to pay for infrastructure and other investment. Ming Ming from Citic Securities Co. estimates the amount of interest-bearing liabilities at around 40 trillion yuan, according to a note published in August.
"The real demand for credit now isn't as high as the data show," said Xing Zhaopeng, a market economist at ANZ Bank China Ltd in Shanghai. "The lending used in debt swaps doesn't generate new deposits and it barely has any impact on the economy."
Another trend to watch carefully is the amount of bill financing - a form of short-term lending to firms. These were used in late 2018 and early 2019 to artificially inflate the headline credit growth numbers to meet regulatory requirements about how much banks should increase their lending. That prompted Premier Li Keqiang to criticize the practice and ask banks to lend more long term.
"As the real economy still faces relatively big downward pressure, the credit extension by financial institutions would be mostly driven by regulatory policies," said Wang Yifeng, chief banking analyst at Everbright Securities Co. in Beijing. "That means financial institutions will continue to use bill financing and non-banking lending to boost credit growth."