Riksbank Stays Put as Pandemic Risks Offset Brighter Outlook
Sweden's central bank underlined its commitment to keeping monetary stimulus in place as continued risks from the pandemic outweigh a brighter outlook for the Nordic region's largest economy.
The Stockholm-based Riksbank, which kept its main interest rate at zero as expected, said the economy is set to "approach a more normal level towards the end of the year."
The central bank also kept its quantitative easing program at 700 billion kronor ($83 billion). In a statement, it said "monetary policy needs to remain expansionary to support the economy and for inflation to be close to the target of 2% more permanently." The krona was little changed against the euro.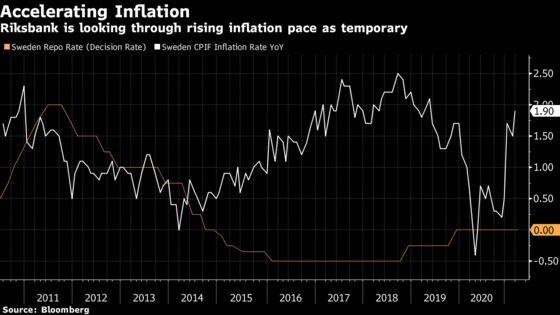 Sweden's Riksbank, which ended half a decade of negative rates in late 2019, has signaled it doesn't want to go below zero again. But it's also made clear it's reluctant to remove monetary support as doubts around the continued fallout from the pandemic linger.
What Bloomberg Economics Says...

"We think the Riksbank will be mindful to repeat past mistakes. It was early to hike after the financial crisis but had to reverse course due to a marked decline in inflation on the back of a stronger krona. It will want to see inflation near the target for an extended period before flagging rate hikes. That will take time."
--Johanna Jeansson, economist for the Nordic region.

For the full note, click here
Governor Stefan Ingves said that even though the bank expects to see the economy recover, changing policy direction now would be too early and carry too much risk.
"If we're wrong, we would be facing a very steep uphill battle, starting from scratch again," he told reporters.
Meanwhile, Sweden's economy looks poised to recover faster from the Covid crisis than many of its European peers including Germany. The Riksbank raised its outlook for gross domestic product growth this year to 3.7% from 3% previously. Inflation isn't expected to reach its 2% target until early 2024, though, and the Riksbank doesn't see its main interest rate moving away from zero throughout that period.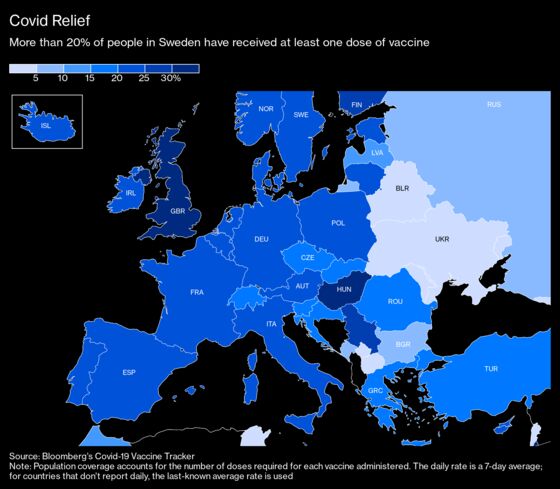 The bank said its forecasts assume that the "greater part of the adult population of Sweden and its most important trading partners will have been vaccinated towards the end of the summer." And by the second half of the year, the expectation is that "restrictions on social life are eased more substantially," it said.
The Nordic economies have weathered the Covid crisis better than most thanks in large part to generous welfare systems and widespread digitalization that made working from home less of a disruption.
But years of ultra-low interest rates have also fed record house prices and rising private debt levels. Ingves has likened the monetary policy balancing act the Riksbank needs to maintain to "sitting on top of a volcano."
Andreas Steno Larsen, the chief strategist at Nordea, suggested the decision to continue buying 50 billion kronor worth of covered bonds that finance Swedish mortgages in the third quarter isn't "smart."