Pressure Building in Sweden's Central Bank for Faster Rate Hikes
(Bloomberg) -- The pressure is building from within Sweden's central bank to end an era of negative interest rates more quickly.
While it kept the benchmark at minus 0.5 percent on Tuesday, two of six of Riksbank policy makers said they favored tightening immediately or at least by September as Sweden's economy enjoys its 19th quarter of growth and inflation picks up. The krona rallied the most in nearly two months.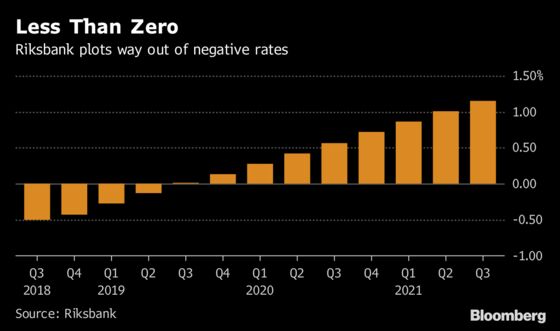 "Eventually you get to a point when rates are expected to go up," Riksbank Governor Stefan Ingves said in an interview. He still wants to wait until year-end before shifting policy. "When you get to that point, when you sort of change direction, you get some nuances about when to do it and what the world looks like."
Even if it holds off, Sweden's central bank is looking more and more poised to move faster than the European Central Bank at pulling away the historic monetary stimulus program that's buttressed its economy for years. The ECB has indicated it won't start raising rates until well into next year.
Ingves said that while negative rates have been "highly, highly unusual," the risk is that moving too soon causes the currency to strengthen too quickly. That could undermine the central bank's success over the past two years at bringing inflation back toward its 2 percent target following a period of deflation.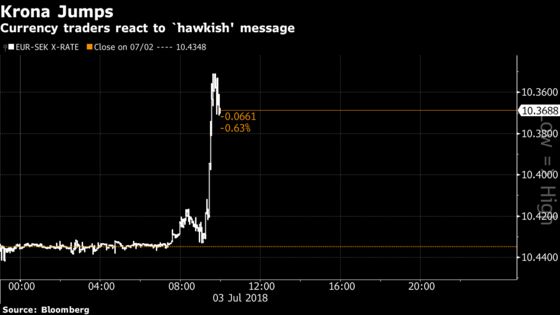 Yet despite his caution, the exchange rate jumped 1.3 against the euro to 10.306 by 2:14 p.m. in Stockholm after the vote result showed a more divided board than usual.
"The majority view is that, on the one hand, things are moving on quite nicely in the Swedish economy, and so actually in terms of the growth numbers in the global economy, but on the other hand, inflationary pressures are actually quite modest," Ingves said.
Resuming interest-rate hikes for the first time in seven years has become more possible after the krona slid to its weakest versus the euro since the financial crisis earlier this year, driven down by mounting concern of the trade war brewing between the U.S., China and the European Union and a shaky domestic housing market. That -- and climbing oil prices -- helped push underlying inflation up to 2.1 percent in May, the highest since September.
On Tuesday, the central bank raised its 2018 inflation forecast to 2.1 percent, and the same for 2019. It expects price growth to slow to 1.9 percent again in 2020. As for its forecasts for economic growth, they were lowered to 2.5 percent this year and 1.9 percent in 2019.
In addition to negative interest rates, the central bank has experimented with quantitative easing, snapping up almost half of the nation's government bond market.
"There is no doubt Riksbank has moved closer to a rate hike as soon as in 2018," said Robert Bergqvist, the Stockholm-based chief economist at SEB AB. "That's a reasonable thing to do considering that the criteria have been fulfilled."
Other economists like Swedbank AB's Anna Breman warn the window for raising rates might soon close. The brewing trade dispute that threatens to entangle the EU would have repercussions for Sweden, which is already facing the prospect of a housing market slowdown that could undermine its longest stretch of economic expansion in at least four decades. Consumer confidence is declining and Swedish manufacturing is losing momentum.
Ingves, though, said the scope to raise rates isn't going anywhere.
"I don't think that that would be much of an issue because growth numbers will be quite favorable for several years to come," he said.