Sweden Poised to End Negative Rates After Inflation Accelerates
Sweden's central bank is likely to reverse half a decade of negative interest rates next week after November consumer prices rose more than economists had forecast.
The uptick in inflation cemented predictions that the Riksbank will increase its benchmark rate on Dec. 19. Wednesday's inflation report sent the krona as much as 0.8% higher against the euro.
At Swedbank, analysts called a rate increase to zero next week a "done deal." Michael Grahn, chief economist at Danske Bank in Stockholm, said the inflation figures mean the market will "probably" get a "hike next week."
Negative borrowing costs have revived consumer price growth, but also distorted asset prices and pummeled the pension industry. Banks have struggled to adjust to the regime, shifting their business to rely more on areas that generate fees.
What Bloomberg's Economists Say
"Today's reading cements a Riksbank rate hike to 0% next week," said Johanna Jeansson, a research economist at Bloomberg. "But next year, price pressures are set to weaken as the global economy slows. We expect the central bank to stay on hold at least during 2020."

--For the full report, click here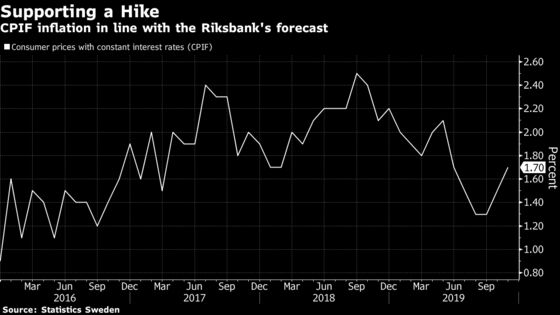 Consumer prices with a constant interest rates (CPIF) rose an annual 1.7% in November, in line with the Riksbank's own forecast of 1.7% and above economists' consensus estimate of 1.6%.
CPIF excluding energy prices, the Riksbank's preferred measure of core inflation, rose an annual 1.8%, up from 1.7% in October
The Riksbank has made clear it's eager to consign negative interest rates to history, even if inflation continues to be slightly below its target. (A survey published on Tuesday showed that market participants don't expect prices to gain at the Riksbank's targeted rate of 2% for the next half decade.)
At Nordea, economists said Sweden's latest inflation report "super cements" a rate hike next week.
As Sweden prepares to exit negative rates, many of its peers look set to remain below zero for the foreseeable future. In neighboring Denmark, the central bank has made clear that rates won't go positive until well into the next decade.
Meanwhile, the European Central Bank has kept its deposit rate below zero since 2014, though the policy is becoming increasingly controversial.
The Riksbank has made clear that a hike next week would be followed by an extended period of inertia as policy makers try to respond to an unstable global economic environment.
For more details, see this table