Riksbank Sends Krona Plunging With Delayed Rate-Hike Plans
(Bloomberg) -- The Riksbank became the latest central bank to backtrack on plans to tighten monetary policy, as a less certain economic outlook means negative interest rates may persist in Sweden into next year.
Policy makers in Stockholm agreed to keep the key repo rate at minus 0.25 percent, as predicted. But they delayed a planned rate increase toward early next year and extended their bond purchasing program to the end of 2020. The krona hit the lowest since 2002 against the dollar and fell more than 1 percent versus the euro after the decision, prompting one analyst to quip that the bank had activated its "krona-killing machine."
Riksbank Governor Stefan Ingves, who has come under extreme criticism for debasing the value of the currency, defended the bank's decision, saying that its moves are necessary because it targets inflation and not the exchange rate.
"As far as we can judge, inflationary pressures are a little bit lower here, and elsewhere as well," he said he said in an interview after a press conference in Stockholm. "Based on that, and based on our judgment, we concluded that it's time for a rate hike toward the end of this year or early next year. That's a slight postponement compared to what we said before."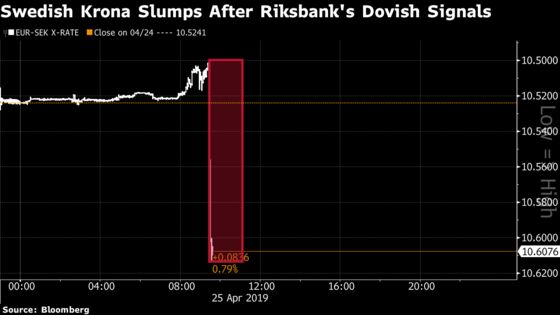 The bank also announced it would extend its bond buying into 2020, but slowing purchases to 15 billion kronor every six months from 20 billion kronor currently. Two of the bank's board members, Henry Ohlsson and Martin Floden, entered a reservation against the decision.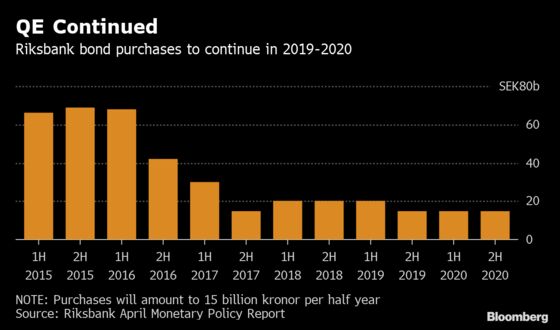 Relying on exports for about half its economic output, Sweden has started to feel some of the weakness that's gripped the euro zone. And with the European Central Bank forced into a more dovish position, policy makers in Stockholm have had little choice but to follow its retreat. The ECB expects its key rate to be unchanged at least through 2019. In the U.S., the Federal Reserve has halted its hiking cycle.
Robert Bergqvist, chief economist at SEB in Stockholm, characterized the overall message as "very dovish."
Bergqvist said the Riksbank's comments signal that it's "worried" and taking a "clear step in a softer direction" as a result.
"We still believe that the next hike will be in April next year," he said. " Given what they are signaling they will probably wait for more data before acting."
Swedbank AB sees a December increase rather than a September tightening. Other banks, including Svenska Handelsbanken AB revised their forecast to now seeing no more increases in this cycle.
The shift comes after Ingves in December raised rates for the first time in seven years, starting a move away from extreme monetary stimulus and all the potential imbalances it brings.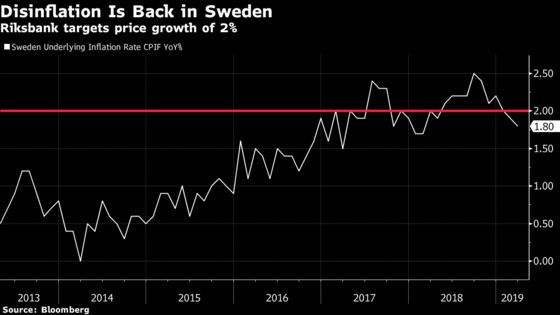 Ingves is still confident that he would eventually be able to lift rates above zero again.
"The Swedish economy is doing quite well compared to other economies," he said. "So it would be very strange if we were to have a negative rate forever, so to speak. And our interest rate path, policy rate path speaks its own language, it will go up, but slowly."
| | | |
| --- | --- | --- |
| Riksbank Forecasts | 2019 | 2020  |
| CPIF | 1.8% (2.0%) | 1.8% (2.0%) |
| GDP | 1.7% (1.3%) | 1.9% (1.9%)  |
| Unemployment  | 6.4% (6.3%) | 6.5% (6.5%) |