Riksbank Just Won't Be Rushed Into Rate Hikes: Decision Guide
The Riksbank's first hint about a possible interest-rate hike is likely to be revealed this week in an outlook confirming the Swedish central bank as still one of the most dovish among advanced economies. 
Policy makers are anticipated by economists to reveal plans for an initial post-crisis increase in late 2024, as they keep their benchmark interest rate at zero on Thursday. 
While such a timetable means staying on hold for years, it still represents a significant step for the Riksbank, which until now had envisaged no change for the foreseeable future.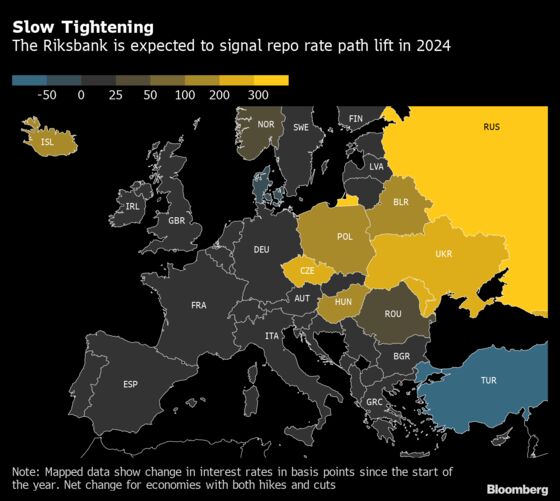 Swedish monetary officials have kept sanguine about soaring inflation, reckoning such price spikes will subside next year. That stance differs markedly from global counterparts such as the U.K., which could tighten policy next month, or New Zealand, which just did. 
"I don't think they want to hike rates just from what they perceive as energy-price increases," SEB Chief Economist Jens Magnusson said in an interview. "I do expect them to perhaps play around with the idea of actually hiking rates in 2024."
That's a widely held view. At Handelsbanken, Johan Lof and colleagues predict that the bank's repo rate path to show some probability of an increase in the third quarter of 2024 before implying a full 25 basis-point move in the last three months of that year. 
Such expectations are shared by investors in an SEB survey which found that 90% of respondents expect policy makers to forecast a higher rate by the end of 2024. 
Adding to the Riksbank's case for a cautious approach, a surge of Covid infections in Europe has led to a reintroduction of restrictions and increased concern about the rebound.
Even so, Swedish inflation accelerated more than forecast in October to a new 13-year high, and the global discussion about price risks is also playing out at the Riksbank. One of the six rate-setters, Henry Ohlsson, warned last month that inflation could turn out more persistent.
Read more: Sweden Inflation at 13 Year High Tests Riksbank's Rate Plan
If the Riksbank does opt to withdraw some stimulus sooner, it could reduce bond purchases in 2022. The bank has pledged to maintain the size of its balance sheet by reinvesting maturing bonds, but several economists reckon it could shrink holdings in the second half of next year.   
"We believe that the bank will lightly touch the brakes," Nordea's Torbjorn Isaksson said. He predicts such a move, but one that won't be announced this week. 
SEB agrees the balance sheet may shrink slightly in late 2022. It says the Riksbank will stay very cautious about delivering a rate hike, because it remains haunted by memories of previous tightening that attracted criticism from Nobel Prize winner Paul Krugman.
"They have probably learned from their mistake in 2008, when they hiked rates two weeks before Lehman Brothers collapsed," Magnusson said.