Riksbank Finds Negative Rates Work Best on Corporate Lending
(Bloomberg) -- In assessing its four years of negative interest rates, Sweden's central bank found that going below zero has had most impact on corporate lending rates while the effect on mortgage rates was initially more muted.
"The negative policy rate has had a strong pass-through to bond market yields and lending rates to firms," Riksbank economists Henrik Erikson and David Vestin said in a staff memo released by the central bank on Tuesday. "Lending rates to households have also fallen, although the initial pass-through was weaker."
Debate is swirling around the effectiveness of negative rates, an experimental measure that was unleashed to boost growth and inflation in the aftermath of the financial crisis. Sweden, Switzerland, Japan, Denmark and the euro zone all tested the policy, though their monetary goals varied between galvanizing demand to steering exchange rates.
A study co-authored by former U.S. Treasury Secretary Lawrence Summers released this month criticized the policy, arguing it hurts bank profits and actually raises borrowing costs for consumers.
Sweden's Riksbank drove its benchmark repo rate below zero in 2015 to avoid deflation, and only last month started tightening policy. Like other central banks, it also bought up large quantities of bonds, drawing criticism it was distorting market prices.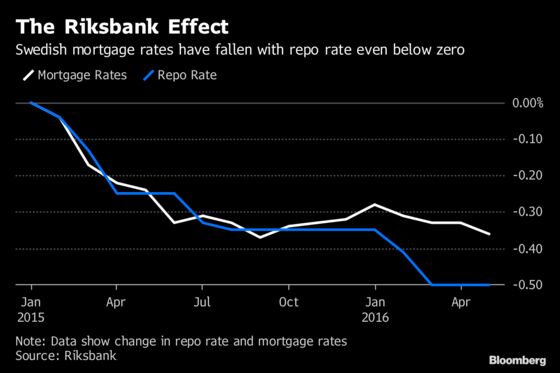 The Riksbank study found that the pass-through to market rates was strong even after the benchmark became negative. That, according to the authors, explains why lending rates to companies were more attuned to the repo rate since firms "view direct funding in the capital markets as an alternative and competitive funding source."
The impact on household rates was less immediate, but was "more or less completed by mid-2018," the economists said.
"One possible interpretation behind the more gradual pass-through of the last two cuts is that the established banks initially tried to exploit their market power and resists further interest rate cuts," Erikson and Vestin wrote.