Richest Scandinavians Are Bracing for Series of Rate Increases
(Bloomberg) -- Norway's central bank may be about to start raising interest rates for the first time in seven years as Scandinavia's richest economy bounces back from its worst oil crisis in a generation.
Policy makers in Oslo are set to raise their benchmark rate on Thursday, lifting it by a quarter point to 0.75 percent, according to all 23 economists surveyed by Bloomberg.
The economy of western Europe's biggest oil producer is back on its feet, with unemployment below 4 percent and offshore investments accelerating. That will allow Governor Oystein Olsen to move ahead of his peers in Stockholm and Frankfurt. And with inflation running faster than anticipated and the Norwegian krone trading near a record low, Olsen also has room to signal a steeper rate outlook ahead.
"There's cause to celebrate, it's a sign of strength that interest rates are now going up," said Kjetil Ask Olsen, chief economist at Nordea AB in Oslo. "We believe that the bank will present a rate path which indicates three rate hikes next year."
Backed by a $1 trillion wealth fund, Norway has fought off an economic slump triggered by a crash in crude prices in 2014. The government dipped into its wealth fund for the first time while Olsen has kept the key rate a record low since early 2016.
Norway's fiscal strength and concern over build up in debt has also allowed Olsen to keep rates higher than warranted by the economy and avoid the extreme measures of negative rates and quantitative easing unleashed elsewhere.
The housing market is now recovering after tighter lending regulations caused a dip in 2017.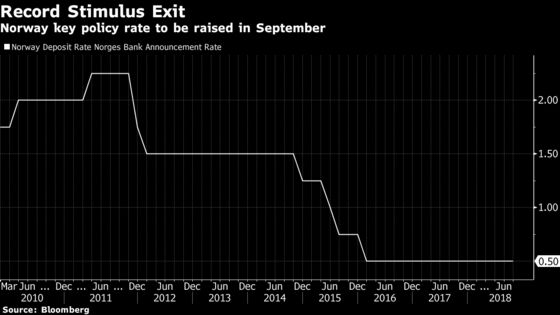 According to Kari Due-Andresen, chief economist at Svenska Handelsbanken in Oslo, a number of factors suggest that Olsen will raise his rate outlook to signal three rate increases next year. Inflation has been faster than the central bank has estimated, but oil prices have also been higher, she said.
Inflation surprised the markets in August, accelerating to 1.9 percent, far surpassing the central bank's 1.5 percent forecast.
Norway is now "out of sync" with a growing uncertainty abroad, she said. "There's maybe a disconnect now with Sweden and the euro zone when it comes to developments and inflation," she said. "But gravity will eventually start to affect us as well."
So far, the growing trade tensions have actually helped Olsen by depressing the krone. Finance Minister Siv Jensen has pointed to the potential for a trade war as one of the biggest threats to the economic expansion.
DNB ASA, Norway's largest bank, anticipates there will be enough uncertainty in the outlook to keep Olsen from signaling another rate increase already in December, keeping the probability for that at below 50 percent.
The bank will likely go "gradually forward" next year, said Kyrre Aamdal, a senior economist at DNB. It will likely signal two to three rate increase next year, "but closer to two," he said.
Nordea's Olsen said the krone will likely strengthen as Norges Bank embarks on its tightening cycle. "During first half in 2019 there will be a gradual strengthening of the krone as the rate differential will be large enough for investors to be interested in looking to Norway," he said.