Doves Take Flight at Central Banks: World Economy This Week
(Bloomberg) -- The year is ending with dovish central banks in the ascendancy as policy makers from the U.S. to India looking less gung-ho about raising interest rates than they once did.
Our Bloomberg Economics chief, Stephanie Flanders, outlines the key global economic risks for 2019, and here's the team's full report on what you need to know for the year ahead.
Here's our weekly wrap of what's going on in the world economy.
There was plenty of Fedspeak this week, but little to change the consensus that they'll hike in December while recent data are tilting them more dovish for 2019. The vice chairman flagged the risk of sluggish inflation, and the data bear this out. The New York Fed chief sees a still-strong economy warranting further hikes, but with some real risks. Yield-curve inversion haunts the Fed more than ever. The week ended with a U.S. jobs report that underwhelmed, with payrolls and wages rising by less than forecast.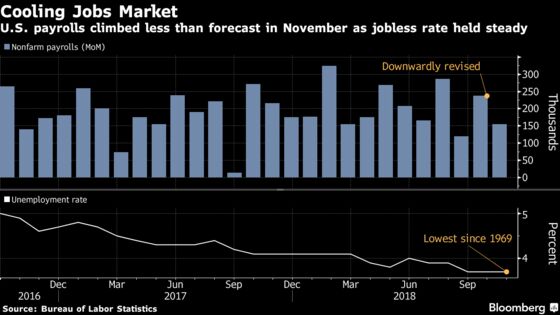 Elsewhere in central banking, there was a decidedly dovish feel this week. India held steady on an inflation undershoot. Bank of Canada held, and the car market there is hurting from higher rates. China has to consider more stimulus amid trade-war uncertainty, and South Korea's lackluster growth signs probably will keep them on hold for a while. An inflation deceleration has the Philippines in a rethink, even as prices are still soaring. Rupiah stability might have Indonesia on pause, and stretched Aussies are making their policy makers rethink hike plans.  Next week, all eyes will be on the European Central Bank. 
Market jolts aside, this week's trade-war trophy probably goes to Donald "Tariff Man" Trump in a slight edge over Xi Jinping, as his boisterous tweets out of the G-20 meeting have largely panned out in his favor, with China indicating it's on board to buy American on LNG and soybeans again. There are still a raft of lingering questions around what deal was actually struck, especially as the initial official statements drew a stark contrast and as the Trump team's message this week has been less than consistent. Ninety days just doesn't seem enough to do much of anything. Chinese data is still getting hammered, with the Caixin PMI in a funk, but those worried about global trade's health should find relief in the gauges we're tracking.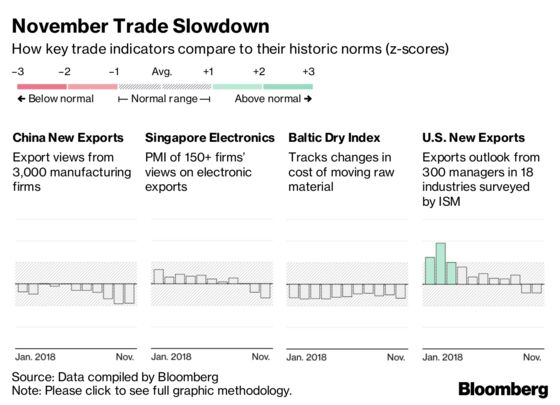 The U.S., Canada and Mexico made it official on the USMCA last weekend, though the latter two have diverging views on what this means for prospects of scrapping U.S.-imposed metals tariffs. Trump is pressuring Congress to approve the new deal by officially killing Nafta.

Read More:
Asia's Tech Economies Feel Trade War Hit as Manufacturing Slumps
Italy's flirting with recession, and manufacturing already is in an entrenched downturn, as the populist government continues its tussle with the European Union over its redrawn budget. Theresa May experienced perhaps her worst Brexit day yet. Meanwhile, in France: The government put some fires out by walking back a planned fuel-tax increase, while the prime minister made a dubious pledge on taxes and the deficit.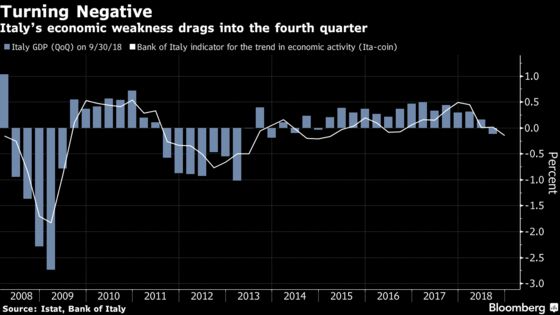 For some brighter news, an unlikely candidate this week: Argentina, which cleared a key hurdle to an IMF deal as inflation expectations improved, also allowing central bankers to lower the world-beating interest rates. President Mauricio Macri talked big on a 2019 rebound in an interview with Bloomberg TV in Buenos Aires.
China GDP Growth Forecast