Retail Sales Show U.S. Spending Solid But No Longer Gangbusters
(Bloomberg) -- Americans are still shopping -- just not at the gangbusters pace seen earlier in the year.
October retail sales rose by the most in five months, driven by automobiles, fuel and building materials following hurricanes that restrained spending, Commerce Department data showed Thursday. A measure of underlying demand known as the control group advanced by less than forecast, and downward revisions to the prior months' data also put a damper on the overall picture.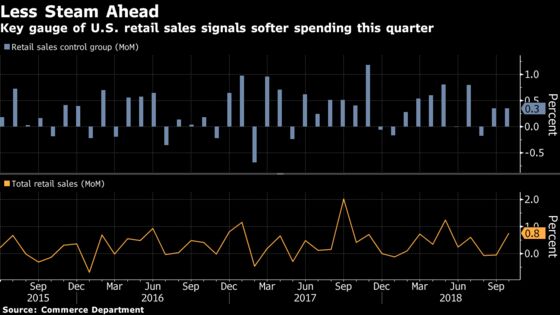 Even so, increases across most sales categories kept economists from being too negative on the outlook, with the solid job market and the recent plunge in oil prices expected to boost Americans' discretionary-spending power. It all points to consumers continuing to drive economic growth in the fourth quarter and into 2019, following the best back-to-back quarterly gains since 2014.
"The control group is giving you a better sense of what the underlying trend is, which in real terms is fairly moderate growth now," said Avery Shenfeld, chief economist at Canadian Imperial Bank of Commerce in Toronto. "We're probably past the biggest lift on a quarterly basis that we saw from the tax cuts and now we're getting growth that's still well-supported by job gains and better wage growth."
A dimmer view of spending also showed up Thursday in a gauge of consumer sentiment: Attitudes toward making purchases slid last week to the lowest level since June in the Bloomberg Consumer Comfort Index.
The focus now turns to holiday shopping, and retail sales for November and December. Consumer spending, which makes up the largest chunk of the U.S. economy, is still buoyed by a solid job market and a gradual pickup in wage gains. But the trade war with China may increase prices as companies consider passing the costs from tariffs on to consumers, while the boost from tax cuts may be starting to wane.
What Our Economists Say...
The economy is slowing from an unsustainable pace reached the second and third quarters. Nevertheless, consumers remain the key driving force behind economic growth, and the latest retail sales numbers confirm this view. Solid income growth and an extra dividend in the form of gasoline-price declines will help spur retail sales in this holiday season.

-- Yelena Shulyatyeva and Carl Riccadonna, Bloomberg Economics

Read more for the full reaction note.
Economists surveyed by Bloomberg expect consumer spending to grow at a 2.8 percent annualized rate in the fourth quarter, following 4 percent in the previous three months.
The value of overall retail sales in October increased 0.8 percent after a 0.1 percent drop in the prior month that was revised down from a gain. The median forecast of economists surveyed by Bloomberg called for a 0.5 percent advance.
But sales in the control group --which can help gauge underlying consumer demand by excluding restaurants, car dealers, building-materials stores and gasoline stations -- climbed a below-forecast 0.3 percent after a downwardly revised 0.3 percent increase in September. The readings match the five-year average.
The data on consumption comes amid signs business investment also is softening. Previously released data showed third-quarter nonresidential business investment slowed to a 0.8 percent annualized pace of growth, the weakest since 2016 and down from 8.7 percent in the prior quarter.
And regional manufacturing reports on Thursday added to the debate about whether the boost from corporate tax cuts is starting to fade sooner than expected. The Federal Reserve Bank of Philadelphia's regional factory index fell to a three-month low of 12.9 in November, and a measure of its six-month outlook dropped to a two-year low. Meanwhile, the New York Fed's manufacturing index and business-expectations gauge both rose.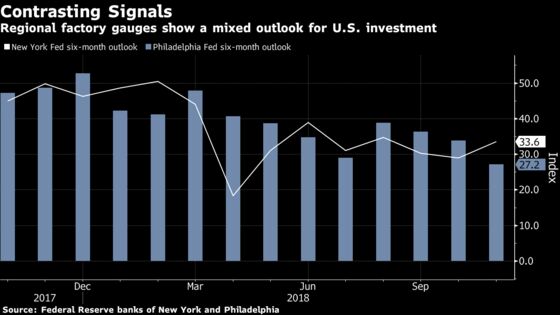 Investors still expect that the Federal Reserve will lift interest rates in December for the fourth time this year and tighten further in 2019.
"The trend to the end of the year should be strong for consumer spending," said Michelle Meyer, head of U.S. economics at Bank of America Corp. in New York. "Next year, I think it could start to be a little bit more problematic as some of the positive effects of the tax cuts start to fade. But nonetheless, I think the consumer will be able to continue to spend."
Also on Thursday, Walmart Inc., the world's largest retailer, posted stronger-than-expected sales in its latest quarter and boosted its full-year outlook. It was a mixed bag for the industry, though, as J.C. Penney Co. reported a steeper decline in sales than projected.
"The U.S. economy is still quite healthy, but it's a question of degree," CIBC's Shenfeld said. "And we're starting to see some signs that the pace of growth may be moderating."