U.K. Retail Sales See Worst Year on Record in 2019, Data Show
Retail sales in Britain posted their worst year on record in 2019, as Black Friday overtook Christmas as the biggest shopping week of the year and political uncertainty weighed on confidence, the British Retail Consortium said.
The value of goods sold posted an unprecedented decline, falling 0.1% compared with a 1.2% increase in 2018, the lobby group said in a report published Thursday. Sales at stores operating for at least a year declined 0.5%.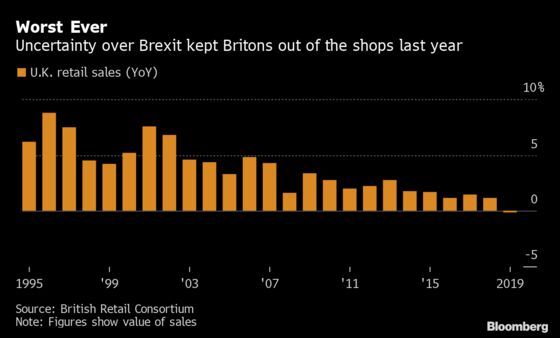 The figures for December alone were boosted by Black Friday, which fell a week later than it did in 2018. Taking November and December together, sales fell 0.9% from a year earlier, with like-for-like sales declining 1.2%.
The survey is seen as a barometer of consumer confidence, which came under pressure last year amid the parliamentary deadlock over Brexit. On Thursday, three of the U.K.'s biggest chains issued gloomy updates. Marks & Spencer Group Plc, Tesco Plc and John Lewis Partnership Plc all suffered from an increasingly tough retail environmental marked by intense promotional pressure and political turmoil.
"Twice the U.K. faced the prospect of a no-deal Brexit, as well as political instability that concluded in a December general election -- further weakening demand for the festive period," said Helen Dickinson, chief executive of the BRC. "Retailers also faced challenges as consumers became more cautious and more conscientious."
The survey was carried out between Nov. 24 and Dec. 28. In the fourth quarter, same-store sales fell 0.9%, with food sales stagnating and spending on other goods dropping 1.6%.