Russian Officials at Loggerheads on Resuming FX Purchases This Year
(Bloomberg) -- A top Russian central banker dismissed a suggestion from the Finance Ministry that foreign-currency purchases could be restarted before the end of the year in a rare display of public discord among the country's key policy makers.
"The central bank rarely gives such firm promises, but when we do we mean it," Ksenia Yudaeva, a first deputy governor at the Bank of Russia, was cited as saying on Thursday by Interfax. "If it's written in the press release that we're suspending until the end of the year, it means we are suspending until the end of the year."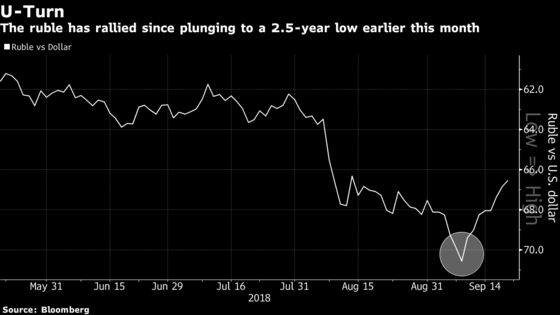 Policy makers announced a week ago that they are extending a pause in buying foreign exchange to temper ruble volatility in the face of a new round of sanctions being discussed in Washington. The ruble has surged almost 3 percent since then, prompting Finance Minister Anton Siluanov to suggest earlier on Thursday that the central bank could start buying again before the end of the year.
"If the situation on the currency market continues in this direction and the exchange rate continues to improve, then I think the central bank can come back to this question," Siluanov told reporters in Moscow. "I think we can hold some kind of consultations together," he said, stressing that the Bank of Russia would take the final decision.
Traders riding the rebound in emerging markets this week seemed unfazed by Siluanov's comments, with the ruble holding gains after his comments. The currency rallied further, however, after Yudaeva stated the central bank's commitment to the policy, adding almost 1 percent against the dollar.
The central bank sells rubles to buy foreign currency for the Finance Ministry to build up reserves under a fiscal rule aimed at insulating the economy from oil-price volatility. Purchases have been suspended since late August, when renewed concern over sanctions drove the ruble to a two-year low.
In their harshest form, the penalties could block sales of new sovereign debt and shut the nation's biggest banks out of the global financial system. If government bonds are targeted, Russia may replace sales abroad with domestic borrowing over the next three years, Siluanov said.
The Finance Ministry plans net borrowing of about 1.5 trillion rubles ($22.6 billion) domestically next year, about one and a half times more than the total planned for this year, Siluanov said. However, he stressed that the country can also find other sources, such as unspent budget funds, to cover the deficit.
"If we run into difficulties or some investors demand higher yields, then we won't go to the market, the same as we've done this year," Siluanov said.