Offshore Debt to Be Included; Kaisa Proposal: Evergrande Update
(Bloomberg) -- China Evergrande Group is planning to include all its offshore public bonds and private debt obligations in a restructuring that may rank among the nation's biggest, people familiar with the matter said. The embattled developer's stock tumbled to a record low, while a dollar bond suffered its biggest drop ever.
Evergrande said in a filing late Friday that it plans to "actively engage" with offshore creditors on a restructuring plan as grace periods on two dollar bond payments end Monday. Kaisa Group Holdings Ltd. bondholders, meanwhile, sent the company a formal forbearance proposal, designed to buy the beleaguered developer some time and avoid a default.
Evergrande shares plunged 20% in Hong Kong and its dollar bonds dropped across the curve, according to traders. The note due in March 2022 was poised for a record one-day drop, down 10.7 cents on the dollar to 22.9 cents. Yields on an index of China junk bonds jumped back above 22% Friday.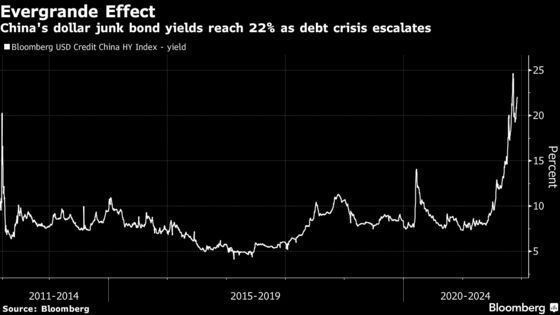 Evergrande's Possible Restructure May Hurt Equity Holders: React
Evergrande Says Formulating Restructuring Plan of Offshore Debt
China's Mortgage Rate Slide May Pave Way for Home Sales Recovery
Longfor MTN Sale Shows Market Open, Tougher for IG: Credit React
Kaisa Bondholders Said to Propose Forbearance (11 a.m. NY)
A group of Kaisa bondholders sent the company a formal forbearance proposal, designed to buy the beleaguered developer some time and avoid a default. 
The creditor group, which is being advised by Lazard Ltd., sent the offer to Kaisa on Monday evening in Hong Kong, according to two people familiar with the matter. Kaisa declined to comment on the proposal. The proposal would see the company avoid a formal default on $400 million dollar bonds due Tuesday, and get more time to seek potential solutions. 
China Signals Easing of Property Curbs (6:33 a.m. NY)
China's top leaders signaled an easing of some property curbs and promised to provide more affordable housing next year as part of measures designed to stabilize the economy.
The pledge came after a meeting of the Chinese Communist Party's elite Politburo chaired by President Xi Jinping.
The government will "support the commercial housing market to better meet buyer's reasonable housing needs," and build more subsidized housing, according to the Monday report by the state-run Xinhua News Agency. Officials will facilitate the "healthy development" of the property industry, it added.
Evergrande Board Sets Up Risk Committee (6:31 a.m. NY)
Evergrande's board established a risk-management committee "in view of the operational and financial challenges" it's facing, according to a filing with the Hong Kong stock exchange.
The panel has seven members, led by Chairman Hui Ka Yan. Others include Chief Financial Officer Pan Darong and five people from outside Evergrande: Liu Zhihong, Zhao Limin, Li Feng, Chen Yong and Hao Han.
Golden Wheel Tiandi in Discussions on Terms (5:58 p.m. HK)
Golden Wheel Tiandi Holdings is in active discussions with certain holders on various proposed amendments to the terms and conditions of notes, according to a Hong Kong stock exchange filing.
The amendments have yet to be finalized, but may include extensions of the maturity dates. The securities include 12.95% senior notes due 2022, 14.25% senior notes due 2023 and 16.0% senior notes due 2023.
S&P Lowers China Aoyuan to Selective Default (5:38 p.m. HK)
China Aoyuan's ratings were withdrawn at its own request, S&P Global Ratings said, adding that the company's progress on the sale of the property management-business and other projects has been "slow."
The "company's prospect of avoiding a general default depends on its alternative fundraising plans such as asset disposals, and negotiations with creditors on repayment extensions," S&P said.
Restructuring to Include All Offshore Bonds (5:15 p.m. HK)
Evergrande is planning to include all its offshore public bonds and private debt obligations in a restructuring that may rank among the nation's biggest ever, people familiar with the matter said. 
The plan would include public notes sold by Evergrande and unit Scenery Journey Ltd., according to the people, who asked not to be identified discussing private information. Grace periods for interest payments on two notes from Scenery Journey end Monday and could mark the firm's first default on public debts. 
The restructuring plan would also include about $260 million of notes issued by joint venture Jumbo Fortune Enterprises that Evergrande has guaranteed, one of the people said. Evergrande indicated in an exchange filing Friday that it may not be able to fulfill its pledge to guarantee payment on those securities.
The formal restructuring process has yet to begin and details of the plan could change, the people said. 
Trust Firms With Billions at Risk Brace for Defaults (5 p.m. HK)
Trust firms that have issued at least $5 billion in high-yield products linked to Evergrande are bracing for a cascade of losses after the cash-strapped developer said it may no longer be able to meet its financial obligations.
At least three firms, including Citic Trust Co., China Foreign Economy and Trade Trust Co. and National Trust, notified clients over the past few days that they risk missing payments on Evergrande products due to the developer's strained finances and will take legal action to protect investors, people familiar with the matter said, asking not to be named discussing private deliberations. At least five trust companies held emergency meetings over the weekend to discuss how to handle potential disputes with investors, the people said. 
Fantasia, Units Sued for Missed October Payment (4 p.m. HK)
Fantasia and units have been sued by a Hangzhou company for missing payments, the company said in a filing. Amount concerned is 1.63 billion yuan ($260 million) and the due date was Oct. 18
Developers Rise as Regulator Assures on Risk (11:30 a.m. HK)
Several Chinese property developers advanced in early trading after a report over the weekend showed November loans increased for a second month, and the nation's securities regulator stated it would support the reasonable financing needs of developers. Country Garden Holdings Co. added 1.8%.
Chinese real estate high-yield bonds "appear on track for modest recovery in 2022," says JPMorgan, led by the BB rated segment.
Since such builders "have a longer track record, they are more likely to have overseas assets, stronger shareholder backing and access to alternative funding," credit analyst Frank Pan wrote in a report dated Monday. 
Evergrande Moves Toward Restructuring (7:50 a.m. HK)
Evergrande's long-awaited debt restructuring may finally be at hand, posing a fresh test for Xi Jinping's government as it tries to rein in the country's financial excesses without derailing economic growth.
The embattled developer said in an exchange filing late Friday that it plans to "actively engage" with offshore creditors on a restructuring plan, offering its most explicit acknowledgment yet that its $300 billion of overseas and local liabilities have become unsustainable.
A barrage of statements from Chinese regulators -- several of which landed just minutes after Evergrande's announcement -- suggested authorities are striving to contain the fallout on homeowners, the financial system and the broader economy rather than orchestrate a bailout.
The government of Guangdong, the southern province where Evergrande is based, summoned founder Hui Ka Yan to express concern over the company's announcement and said it would dispatch a team to the developer to ensure "normal" operations. The People's Bank of China blamed Evergrande's problems on the company's "own poor management" and "reckless expansion."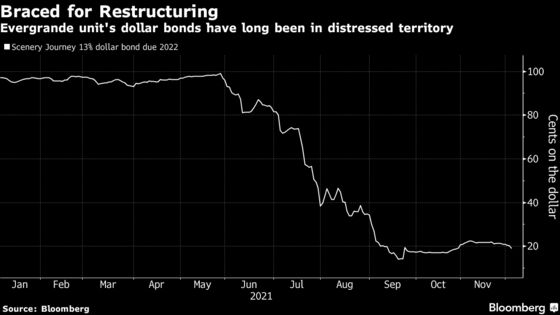 Sunshine 100 Defaults on $170 Million of Debt (7:48 a.m. HK)
Chinese developer and repeat defaulter Sunshine 100 China Holdings Ltd. has missed payment on $179 million of debt and interest payments due Sunday, as higher borrowing costs hit indebted companies across the sector.
Sunshine 100 said in a filing that it won't be able to repay the $170 million of principal and more than $8.9 million of interest on its 10.5% senior notes due 2021. The company said in August that it wasn't able to repay the principal, premium and accrued interest of its 2021 bonds. Its default will also trigger provisions under some other debt instruments.
Shares fell 87%, wiping out nearly all of their value.
Special Bonds Can't Halt Property-Led Slump (7:45 a.m. HK)
China is betting that a pickup in infrastructure spending can spur investment and cushion a property-led slowdown which has dragged economic growth down to almost its lowest pace in more than three decades. 
But because the property curbs are hitting government revenue from selling land, Beijing will need to ease its tough campaign to crack down on "hidden" local government debt if it wants a long-lasting revival in infrastructure spending.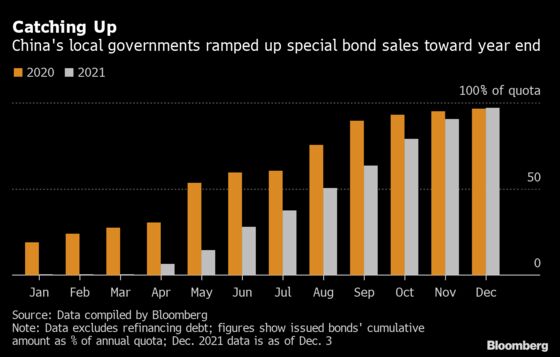 Property Loans Rose $31 Billion in November (7:35 a.m. HK)
Loans from Chinese lenders to the real estate sector rose both sequentially and from a year earlier in November, a newspaper backed by the country's central bank reported.
New property loans increased about 200 billion yuan ($31.4 billion) from November 2020, Financial News said on Sunday, citing preliminary data from Chinese financial regulators and banks. The People's Bank of China had said growth in mortgage loans outstanding accelerated in October.
Country Garden Seeks Supply-Chain ABS Sale (7:25 a.m. HK)
Country Garden Holdings Co. Ltd. said it will soon apply to Chinese exchanges for the issuance of supply-chain asset-backed securities.
The property developer will start ABS sales after regulatory approval, according to a statement posted on the company's WeChat account Sunday, without giving further details such as size of the issuance.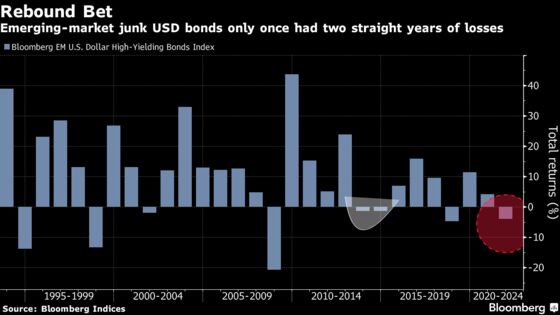 Kaisa to Sell Hong Kong Asset for $24 Million (7:20 a.m. HK)
Kaisa Group agreed to sell a Hong Kong property asset for no more than HK$186.4 million ($24 million) to China Shandong Hi-Speed Financial to settle part of an outstanding loan, Shandong Hi-Speed says in HKEX filing Sunday evening.
Kaisa, which became China's first developer to default on dollar debt in 2015, now risks once again reneging on its obligations. The company is struggling to raise funds as surging borrowing costs shut it out of the primary dollar bond market and a housing slowdown squeezes revenue. Kaisa is the nation's third-largest issuer of dollar notes among property firms, with some $11.6 billion outstanding.
A look at Evergrande's maturity schedule:
Dollar bonds
Coupon due date
Grace period ends

Amount 

(million dollars)

TIANHL 13% due 2022
Nov. 6
Dec. 6
41.93
TIANHL 13.75% due 2023
Nov. 6
Dec. 6
40.56
EVERRE 7.5% due 2023
Dec. 28
Jan. 27 
50.43
EVERRE 8.75% due 2025
Dec. 28
Jan. 27 
204.77