Republicans' TV Audience Tumbles on Every Network Except Fox
(Bloomberg) -- The opening night of the Republican National Convention drew a far smaller audience than the Democrats did last week, with viewers tumbling on every major broadcast and cable network except the Fox News Channel.
About 17 million people tuned in to watch the convention Monday, according to data Nielsen released Tuesday, based on 11 channels. That was down from the 19.7 million who watched the first night of the Democratic convention.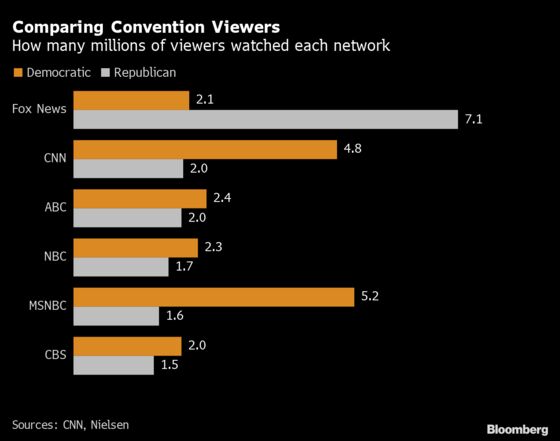 Fox Corp.'s cable news outlet led the night with 7.06 million total viewers, more than triple the number who tuned to the channel last Monday. AT&T Inc.'s CNN was second with 2.01 million total viewers. Comcast Corp.'s MSNBC, the leader during the Democratic convention, fell to fifth place Monday night, with an audience of 1.57 million.
The results are based on coverage that began at 10 p.m. New York time. The Republicans drew 23 million viewers to their opening night four years ago based on seven networks, according to Nielsen data.
Traditional TV viewing has been shrinking as consumers shift to online-video options. The results also illustrate the increasingly bifurcated way in which Americans get their news, with the left-leaning MSNBC dominating during the Democratic convention and the more-conservative Fox News thriving during the Republican one. This year's conventions have also been challenged by the coronavirus, which has limited in-person attendance and thus much of the cheering and drama.
The Republicans tried to overcome some of that Monday, hosting several hundred delegates at the convention center in Charlotte, North Carolina. The first day featured the roll call, where representatives of the 50 states and territories reveal their delegate counts. President Donald Trump also spoke.
Other speakers included his son, Donald Trump Jr.; former U.S. ambassador to the United Nations Nikki Haley; and Mark and Patricia McCloskey, the St. Louis couple who brandished guns at Black Lives Matter protesters marching past their home earlier this year.
The speakers emphasized Trump's record on the economy and what they said was his decisive response to the coronavirus. Many reviewers highlighted impassioned remarks from Kimberly Guilfoyle, the younger Trump's girlfriend and a former Fox News host, who took direct aim at the opposing party.
"They want open borders, closed schools, dangerous amnesty, and will selfishly send your jobs back to China while they get rich," Guilfoyle said. "They will defund, dismantle and destroy America's law enforcement. When you are in trouble and need police, don't count on the Democrats."
First Lady Melania Trump and Secretary of State Mike Pompeo are scheduled to headline the event Tuesday night.