Reinhart Frets World Faces Financial Crisis if Pandemic Lingers
(Bloomberg) -- World Bank Chief Economist Carmen Reinhart is worried that the protracted nature of the Covid-19 pandemic may overwhelm household and business balance sheets and develop into a financial crisis.
"It's a cumulative toll," Reinhart said in an interview with Bloomberg Television. "This did not start as a financial problem. This started and continues to be, first and foremost, a health crisis. But it has elements that have morphed into your classic balance sheet problems."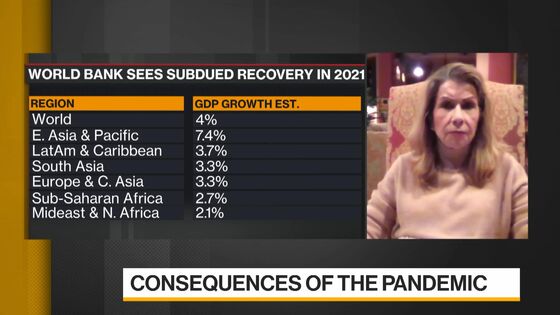 Reinhart, who took her new role in June, is best known for her work with then-Harvard colleague Kenneth Rogoff on the last financial crisis in their 2009 book "This Time Is Different: Eight Centuries of Financial Folly." It made the pair the go-to resource on the history of government defaults, recessions, bank runs, currency selloffs, and inflationary spikes.
The World Bank chief economist again emphasized that it's important not to confuse the expected rebound with a recovery. The bank forecasts per capita income to be still below pre-Covid levels at the end of this year, meaning any talk of recovery "is misleading," she said.
Reinhart spoke as large swathes of the Northern Hemisphere are grappling with record infections a year after the outbreak.
"The longer this goes on, the more disruptions in terms of jobs, in terms of closures of businesses," she said. "I am very concerned that the longer this goes on, the more strain on balance sheets of individuals, households, of firms, of countries."