Rehn Chimes in on ECB Rate Debate as Officials Map Slow Liftoff
(Bloomberg) -- Finland's Olli Rehn joined key European Central Bank decision-makers including Benoit Coeure in stressing the need for flexibility in preparing investors for eventual increases in borrowing costs.
Seen as a contender to succeed ECB President Mario Draghi when his term ends next year, Rehn told Bloomberg on Tuesday he'd lean more toward "sticking to the clear communication of our reaction function, recalling that policy is data dependent, than start delineating an exact path of the interest rates."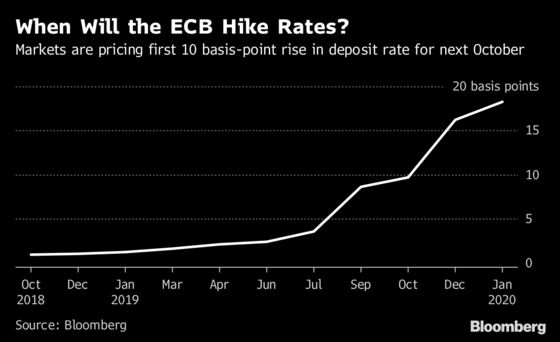 The remarks highlight that officials are starting to ponder the path of interest rates after liftoff, anticipated for after the summer of 2019, as well as strategies to offer guidance to investors. Executive Board members Coeure and Peter Praet have both stressed the need to communicate more on the pace of increases to avoid stirring up markets.
Rehn says he prefers stressing policy makers' ability to react to economic conditions that warrant a change in borrowing costs, rather than publishing an outright numerical path of interest rates -- a strategy the Federal Reserve follows with its so-called dot plot. That echoes an approach favored by Coeure. An alternative would be to tell investors how right or wrong they are in anticipating a rate move, without explicitly committing to action.
"Once we are further in the normalization of monetary policy, then our policy will necessarily have to become more data-dependent," Rehn said, adding current communication works for the time being. "This is seen for instance in market expectations for the first rate rise, which the markets place more or less to the time-frame which the ECB's forward guidance has indicated."