Record Share of U.S. Small Businesses Raise Pay, NFIB Says
(Bloomberg) -- A record number of U.S. small businesses once again reported raising compensation last month, the National Federation of Independent Business said Thursday.
Forty-four percent of firms boosted pay, matching the largest share in monthly data back to 1986, according to the NFIB's November survey. 
Those wage gains may be beginning to pay off. Some 48% of respondents reported having job openings they could not fill, and while still very high, it's the second straight monthly decline.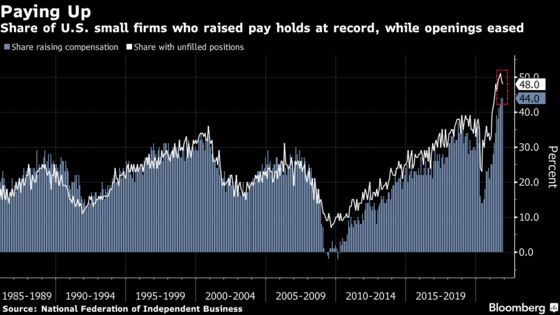 "Unfilled positions and labor quality remain the biggest challenges for small business owners as they work to get back to pre-crisis levels," NFIB Chief Economist Bill Dunkelberg said in a statement. "Owners have been increasing compensation to record-high levels to attract the right employees to their business."
Meantime, a quarter of the respondents plan to create new jobs in the next three months, a pullback from the previous month but still extremely elevated.
The monthly government jobs report, out Friday, is forecast to show the U.S. added more than half a million jobs in November.