RBL Bank Tumbles After India Appoints Director to Board
(Bloomberg) -- RBL Bank Ltd. shares plunged after a decision by India's central bank to appoint a new director to the board raised concerns about the outlook for the small private-sector lender.
The stock dropped as much as 25% in Mumbai on Monday, the biggest decline since listing in 2016. It later pared the retreat to close 18.5% lower at 140.95 rupees ($2) after the Reserve Bank of India said the lender's financial health "remains stable." 
The RBI appointed Yogesh Dayal, a career central banker, to RBL's board for two years on the weekend. Meanwhile, Rajeev Ahuja was elevated as the interim managing director and chief executive officer of the bank, succeeding Vishwavir Ahuja, who went on medical leave.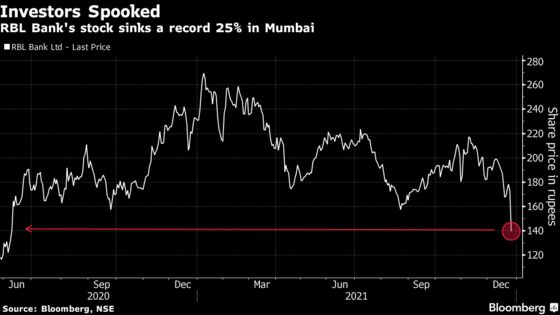 The central bank's action comes as RBL grapples with a surge in soured loans to consumers during the pandemic, prompting the lender to boost provisions that led to a first-quarter loss. The bank returned to profit in the quarter ended September 30, and Rajeev Ahuja -- who is not related to his predecessor -- said on the weekend that the RBI's move wasn't motivated by worries over asset quality and deposit levels.
Nevertheless, the move comes after RBI Governor Shaktikanta Das has shown greater willingness to take steps to ensure financial stability by seizing control of shadow lenders and banks.
RBL is well capitalized and its financial position "remains satisfactory," the central bank said in a statement on Monday in an attempt to assure depositors. The firm has maintained a "comfortable" capital adequacy ratio of 16.33% and a provision coverage ratio of 76.6%, the RBI said. 
It had deposits of 755.9 billion rupees as of September and has relied on individual borrowers for growth as they formed more than half of its loan book of 560 billion rupees, according to an investor presentation. Its gross non-performing assets were 5.4% of total lending, compared with its peer such as AU Small Finance Bank's 3.2%.
Shares of RBL are now down about 39% this year, trimming the lender's market value to 85 billion rupees ($1.1 billion).
The RBI said it appoints additional directors at private-sector banks when it's felt that the board needs closer support in regulatory or supervisory matters. 
India's central bank has taken similar steps at other lenders, such as Yes Bank Ltd. and Dhanlaxmi Bank Ltd., when it saw signs of "weakness," Anand Dama, an analyst at Emkay Global Financial Services Ltd., wrote in a note on Saturday. 
Indian lenders are struggling with the economic fallout of the coronavirus, which triggered an unprecedented economic slump and hurt borrowers' ability to repay debts. Banks were already weakened by a three-year-old shadow lending crisis and are now struggling with one of the worst bad-loan ratios among major nations. 
S&P Global Ratings estimates India's bad loan ratio will rise to 11.3% of total loans in the year ending March 2022 from 7.48% a year earlier. The credit assessor's forecast tops the RBI's projection of 9.80%.
Read more:
RBL Bank Management Has Full RBI Support, Interim Chief Says
India's Private Banks Fall After RBI Appoints Director at RBL
Dayal's appointment will be taken adversely by investors, keeping the stock under pressure, while the management changes add to uncertainty, Dama said. Dayal has in the past been appointed as a director to the Jammu and Kashmir Bank Ltd. -- a private lender -- where he helped clean up the books.
Last month, the RBI superseded the board of Reliance Capital Ltd., a company controlled by former billionaire Anil Ambani, citing a failure to meet payment obligations and "serious governance concerns". It was the latest clean-up job by the central bank in a long line of shadow banks that have folded since 2018. Dewan Housing Finance Corp. got sold to Indian billionaire Ajay Piramal, while Srei Infrastructure Finance Ltd. and Srei Equipment Finance Ltd. were taken over by the RBI in October.
RBL, founded in the 1940s, has witnessed a steady deterioration in its asset quality in the past two to three years. It started off with a sudden surge in non-performing loans to companies and was followed by soured credit card and micro-finance debts during the Covid-19 outbreak, Dama said.