RBA Will Likely Cut Interest Rates, Not Hike, AMP's Oliver Says
(Bloomberg) -- The next interest-rate move in Australia is likely to be down, instead of the hike that most economists and the Reserve Bank itself have flagged, says AMP Capital Investors Ltd.
Chief Economist Shane Oliver, who has been analyzing the Aussie economy for more than three decades, made the call in an interview with Bloomberg Daybreak Asia in the wake of Wednesday's weak gross domestic product data, saying the central bank could move within the next year.
"I think it'll take a little while before the Reserve Bank gets around to it," he said. "But some time in the second half of next year I think the RBA will be cutting interest rates because of sub-par growth, weakness in housing, weak wages growth and all of that acting to keep inflation lower for longer.''
Oliver's reversal -- he had predicted a 2020 hike -- came after the economy grew at half the pace expected in the second quarter and household spending fell sharply. The central bank has been betting that its record-low 1.5 percent cash rate would be sufficient to drive faster growth and hiring, spurring wages and inflation.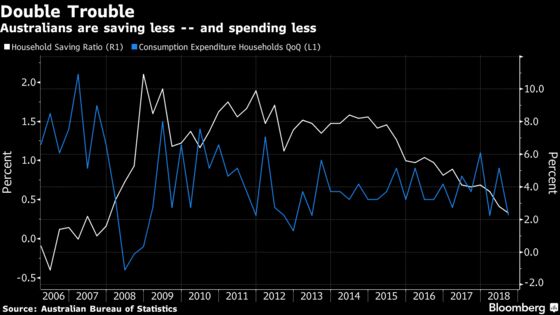 The RBA has been "painting a picture of the Australian economy being a glass half-full", said Oliver, noting that Governor Philip Lowe on Tuesday said the economy was doing well, when the central bank kept rates on hold for a 26th meeting.
"These numbers would suggest it's actually slowing down," Oliver said of the GDP result. "It's a bit of a downer for the RBA, obviously it's a drag on the Aussie dollar. I think it heads us towards a rate cut as being the next move in Australia."
Wednesday's data showed the economy grew 2.8 percent in the third quarter from a year earlier, whereas the RBA forecasts around 3.5 percent this year and next. Household consumption slowed and the savings ratio also fell.