RBA's Lowe Sees 4.5% Unemployment Without Too Much Wage Growth
(Bloomberg) -- Australia's unemployment rate could probably fall another half a percentage point without wages accelerating too fast.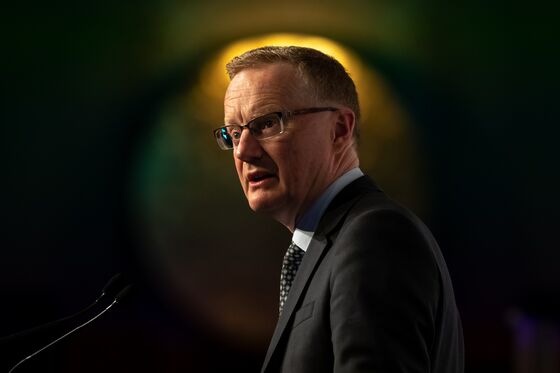 That was central bank chief Philip Lowe's take following a speech in Melbourne Tuesday evening. The jobless rates in the biggest states, New South Wales and Victoria, were 4.4 percent and 4.5 percent, respectively, and pay gains were still at about 2.3 to 2.4 percent, he noted.
"We're seeing in the two biggest states the unemployment rate around 4.5 percent" and that hasn't led to wages accelerating, Lowe said in response to a question from Bloomberg News. "I suspect nationally we could sit around 4.5 percent without seeing wage growth pick up by too much."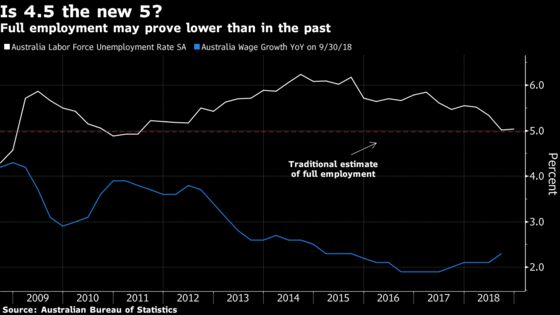 Australia's unemployment rate has fallen to 5 percent, which in the past was viewed as the conventional level of full employment. But with jobless rates falling below such thresholds in other parts of the developed world and wages failing to accelerate in response, many observers see full employment as lower than it was in the past.
"Five percent was kind of the conventional estimate coming from various modeling approaches," Lowe said. "I never had particular adherence to that as kind of being the true answer."
Earlier on Tuesday, the central bank said that unemployment could fall further in the near term based on leading indicators of labor demand, in the minutes of its November policy meeting.
Read more about Philip Lowe's speech in Melbourne
The Reserve Bank of Australia has kept its benchmark interest rate at a record-low 1.5 percent for more than two years to encourage hiring and investment. The aim is to tighten the labor market to such an extent that employers start offering higher pay to attract workers.
"We're gradually inching down and testing how far we can go without wage growth accelerating too quickly," Lowe said.
"Our underlying strategy is to have the labor market tighten up, to get wages to pick up," he said. "So that's our strategy and I think we can go lower than 5 percent."