Lowe Sees Rates Staying Low as Australia Economy Passed Snapback
(Bloomberg) -- Australia central bank chief Philip Lowe said interest rates will remain low for "quite a while yet" as the Reserve Bank judged the recovery has now moved beyond the "initial snapback phase" and into a more uncertain and uneven period.
"The downturn in Australia was not as deep as we had feared and the recovery started earlier and has been stronger than we were expecting," the governor told a panel of lawmakers during testimony in Canberra on Friday. "This does not disguise the fact that we still have a fair way to go."
The RBA surprised markets Tuesday when it announced an extension of its bond-buying program in an effort to remain in line with international peers and avoid an unwelcome spike in the currency. Lowe also said he didn't expect to raise interest rates until at least 2024 with employment and inflation remaining well short of target.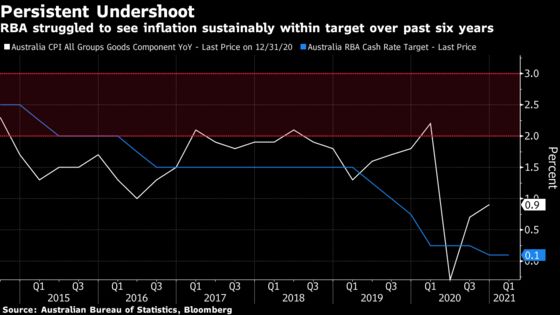 The central bank released its updated quarterly economic forecasts during the governor's testimony. These showed unemployment was expected to fall to 5.5% by the end of next year and inflation was expected to be 1.75% in the year through June 2023. That's below the RBA's 2-3% target.
"Wages growth and inflation are both forecast to remain subdued," Lowe said in his opening statement to the House Economics Committee. "Wages growth is expected to pick up from its current low rate, but to do so only very gradually and still be below 2% at the end of next year."
Asked how likely it is the central bank will hit its inflation target by the end of his term in 2023, Lowe replied: "not high."
In its Statement on Monetary Policy, the RBA provided a central forecast, as well as optimistic and pessimistic scenarios. Under the optimistic assessment, unemployment could fall below 5% by the end of next year.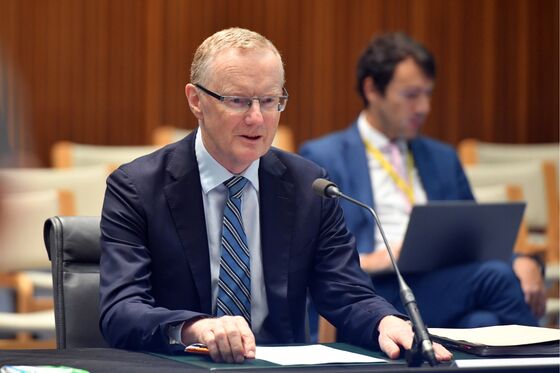 The central bank in November cut its cash rate and three-year yield target to 0.10%; those measures, together with the quantitative easing program and a bank lending facility, have driven borrowing costs to record lows.
Policy makers are betting a lack of immigration due to Covid border closures will keep a lid on house prices. Yet increasingly strong data suggest the property market is already heating up.
While house prices are rising across the country, the national index is only at a level reached four years ago, Lowe said. While the bank isn't focusing on house prices as such, it will watch how money is lent to buy properties, he said.
"We want to see lending standards remain strong," Lowe said. "At present, there are few signs of a deterioration in these standards. If that were to change, you could expect that we would be discussing possible responses at the Council of Financial Regulators, as we did a few years ago."
The A$100 billion ($76 billion) QE program -- that will be extended by a further A$100 billion mid-April -- is helping to slow the currency's gain. The local dollar has surged 33% since its March nadir of 55 U.S. cents, fueled by high iron ore prices and the nation's relatively better health results compared to other developed countries.
"It has not appreciated by as much as we would have thought based on the historical relationships with commodity prices," Lowe said. Where the Aussie dollar goes from here is dependent on commodity prices and what other central banks do with their interest rates, he said.
In its policy statement, the central bank said "a key uncertainty" ahead is how households and businesses respond and adjust to the tapering of some fiscal and other temporary support measures "following the extraordinary boost to cashflows they received last year."
The government's signature job subsidy program is due to expire at the end of March.
At this stage, policy makers are expecting household spending and public investment -- the main contributors to the initial recovery -- to keep driving growth over coming quarters.
"The economy is now transitioning beyond the initial 'snapback' phase," the central bank said. "The nature and speed of the next phase of the domestic recovery remains uncertain and is expected to be uneven for some time yet."