RBA's Lowe Hails QE, Warns on Premature Stimulus Withdrawal
(Bloomberg) -- Reserve Bank of Australia chief Philip Lowe praised the country's quantitative-easing program and warned it would be premature to consider withdrawing monetary stimulus when global peers are extending theirs, and with domestic unemployment and inflation still far from the target.
"The bond-purchase program has helped to lower interest rates and has meant that the Australian dollar is lower than it otherwise would have been," Lowe said in a speech Wednesday. "In terms of the most important consideration -- the outlooks for inflation and jobs -- we remain well short of our goals."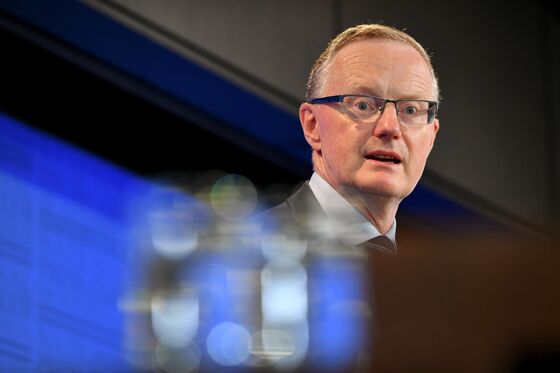 The RBA extended its bond-buying program Tuesday to avoid a spike in the currency, following in the footsteps of the U.S. and Europe in prolonging stimulus. Lowe reiterated Wednesday that interest rates won't rise until 2024, if not later. Australia's recovery is accelerating, with improved sentiment boosting spending and hiring and low borrowing costs fueling the property market.
Lowe made clear the central bank is closely watching housing. He spoke shortly after data showed building approvals surged almost 11% in December, with approvals for private houses up almost 16%.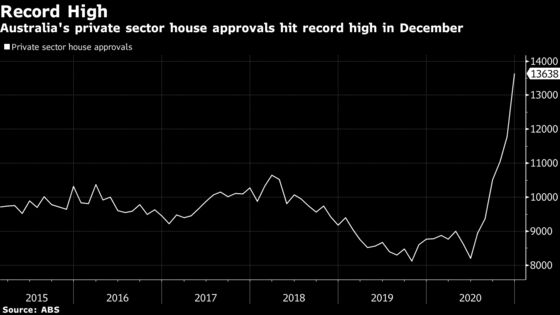 "As housing prices rise again, we will be monitoring lending standards closely," Lowe told the National Press Club in Canberra. "We would be concerned if there were to be a deterioration in these standards, but there are few signs of this at the moment."
Other points from the governor's speech:
"Very significant monetary support will need to be maintained for some time to come," Lowe said. "So it is premature to be considering withdrawal of the monetary stimulus"
The RBA would consider extending a bank-lending facility due to expire in June if funding and credit conditions deteriorated, but "at the moment, there are no signs of this"
The 3-year bond yield target will be maintained. "Later in the year, the board will need to consider whether to shift the focus of the yield target from the April 2024 bond to November 2024 bond"
"The board has no appetite to go into

negative territory

," Lowe said, referring to the cash rate
The governor reiterated that Australia's economy is forecast to expand 3.5% this year and next, with gross domestic product expected to return to its end-2019 level by the middle of this year. That's six to 12 months earlier than the bank previously had estimated.
Still, the RBA isn't expecting GDP to return to its previous trend over the forecast period due to lower population growth. It's expected to rise just 0.2% this year, its weakest showing since World War I, compared with a pre-pandemic expectation of 1.6%.
The bank will release its complete suite of updated quarterly forecasts Friday.
Lowe said unemployment looks to have passed its peak and is forecast to be 5.25% by mid-2023. Under an upside scenario, the jobless rate would fall faster to "a bit below" 5% in the second half of next year.
Responding to a question on the looming end to the government's wage-subsidy program, JobKeeper, which is due to expire in late March, the governor said it likely would result in some job shedding.
"That's going to take place in the context of an economy that's otherwise recovering," Lowe said, adding that a lot of jobs are being created presently. It's "something that will slow the decline in the unemployment rate temporarily, it's quite possible we have a month or two where the unemployment rate blips up."
Reflecting on last year's extraordinary events and how Australia had come through the pandemic better than expected, the governor said it "is increasingly clear from experience both here and overseas, the health of the population and the health of the economy are inextricably linked."