RBA's Lowe Sees Victoria Outbreak Offsetting Recovery Elsewhere
(Bloomberg) -- Australia's central bank chief said economic growth is unlikely to lift until the final three months of this year, with Victoria's renewed lockdown to contain its Covid-19 outbreak "broadly offsetting" the recovery that's been unfolding elsewhere.
"People's attitudes to spending are changing because of the pandemic," Governor Philip Lowe told a parliamentary panel Friday via video conference. "It is probable that households and businesses will remain more cautious and that this will affect consumption and investment. How long this change might last is hard to tell."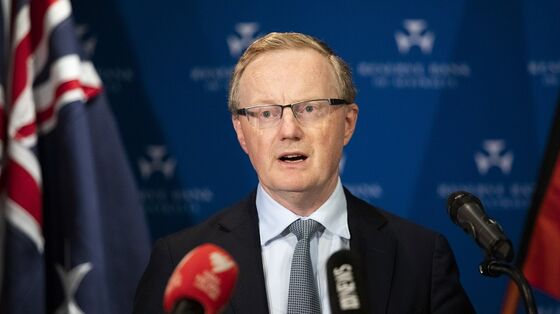 Lowe said in his opening statement during semi-annual testimony that another issue is the "growing impact" of an extended period of weak demand. He cited construction as an industry whose pre-Covid pipeline of work is drying up with firms now "having to scale back."
The Reserve Bank of Australia is trying to navigate the economy through a renewed lockdown of Victoria state, which accounts for almost a quarter of gross domestic product, and a broader hit to sentiment sweeping the rest of the country. Victoria earlier this month shuttered large parts of its economy for six weeks after a surge in Covid-19 infections, even after the 5 million residents of state capital Melbourne were ordered to stay at home.
The Australian dollar declined during Lowe's question-and-answer session, when the governor told lawmakers he'd prefer the currency at a lower level to help spur employment. The Aussie is in line for its first weekly drop in almost two months and was trading at 71.39 U.S. cents at 12:58 p.m. in Sydney.
The RBA chief said Australia's better economic outcomes relative to developed-world counterparts and the strength of commodity prices meant the currency was broadly at fair value. It has surged 25% from its March low.
Lowe also pushed back against a suggestion the bank should intervene to push the Aussie dollar lower, saying he didn't think the RBA would be very successful. Intervention only tends to work, he said, when the market is dislocated or the currency has strayed well above or below its fair value.
The governor, in his opening remarks, reiterated that Victoria was likely to cut 2 percentage points from GDP in the current quarter. He also repeated that the RBA's baseline scenario sees the economy contracting by around 6% this year, and growing by 5% next year.
Unemployment climbed to 7.5% in July and the RBA expects it to reach 10% later this year due to the impact of Victoria's shutdown and people elsewhere in the country resuming their hunt for work, swelling participation. The government has extended its signature JobKeeper wage subsidy and additional JobSeeker welfare support beyond September, though at a lower level.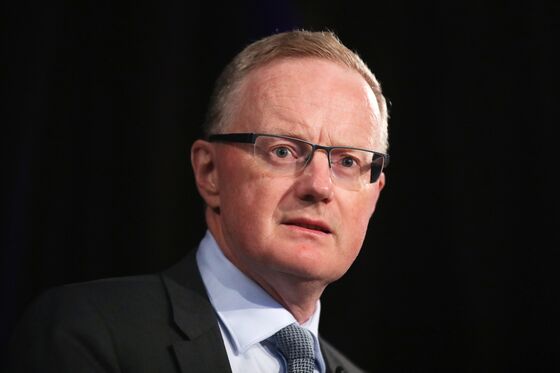 "If we take into account people who are on zero hours, the true unemployment rate is higher than the published measure," Lowe said. "We are expecting the published unemployment rate to decline gradually from 10%, but to still be around 7% in a few years' time."
During the peak of uncertainty over Covid-19 in mid-March that dislocated financial markets, the RBA held an emergency meeting where it cut the key interest rate to 0.25% and set the same target for three-year government bond yields to lower borrowing costs.
The governor said he was confident the cash rate would remain at the current level for three years -- explaining the decision to target the three-yield yield -- and hoped it wouldn't be there for five.
Lowe pushed back on suggestions the RBA could better meet its 2-3% inflation target, which it was struggled to achieve since he's been at the helm, by deploying negative rates. He also denied ruling them out, while reiterating they were "extraordinarily unlikely" in Australia.
"In a world that is so uncertain and so fluid, I don't think it's prudent to rule it out," he told lawmakers. "If we were to have lower rates, then I think we'd see a lower currency as well, so that's the benefit, and that would be a material benefit. We've got to weight that against the costs."
The key one, he said, is that negative rates, in most countries, impair the profitability and efficiency of the financial system, and ultimately its ability to provide credit to the real economy.
The governor also entered the debate over monetary financing, which involves increasing spending and at the same time creating the money needed to pay for it -- typically via central banks. They can either buy the bonds sold by a government to cover gaps in its budget -- or simply offer an overdraft, so that no bonds need to be issued in the first place.
"I want to make it clear that monetary financing of the budget is not on the agenda in Australia," the governor said.